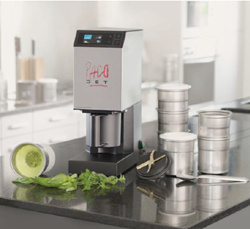 The new website provides extensive information on using the Pacojet Cooking System to provide top quality special diets for nursing home residents, hospital patients and other care recipients in a time-efficient and cost-effective manner."
(PRWEB) October 08, 2015
To address the requirements and interests of one of its fastest growing customer groups, Pacojet is pleased to announce the launch of its new care catering website: http://www.pacojet-care.com.
Jim Hall, Co-owner of Advanced Gourmet, the exclusive US importer of Pacojet, says "The new website provides extensive information on using the Pacojet Cooking System to provide top quality special diets for nursing home residents, hospital patients and other care recipients in a time-efficient and cost-effective manner."
The new website is designed to educate special care institutions on the preparation of healthy and tasty cuisine in a care catering environment. Attention is given to the special challenges faced by chefs and kitchen workers who must prepare a large meal service in accordance with available staff and budget while ensuring that patients' individual needs – such as a sophisticated dysphagia diet – are met in the most effective way.
Website content includes:

Detailed information on how the Pacojet can be implemented to produce high quality specialty diets in an institutional kitchen.
Step-by-step instructions and illustrations for producing meals – such as an appealing, filament-free dysphagia diet – outside of peak working hours
Nutritious and easy-to-prepare recipes suitable for special diets
Informative articles by chefs who are currently using the Pacojet in their establishments highlight real-world examples of the Pacojet in care catering.
News to keep clients up-to-date on trade shows, care catering cooking classes and the latest Pacojet events.
The Pacojet's unique ability to produce a meal service from fresh ingredients for a large number of special needs diners has made it an indispensible tool in care catering kitchens worldwide. Using a Pacojet, chefs can prepare their own dysphagia-appropriate meals with minimal effort, achieving excellent results in any consistency – whether foamed, thickened or gelled."
About Advanced Gourmet
Advanced Gourmet was founded and is led by three foodservice equipment industry innovators, Jim Hall, Jim Marmion and Wally Becker with a primary goal of providing the most advanced equipment solutions and services for the professional kitchen and specialized applications throughout the United States. Advanced Gourmet is the exclusive importer and distributor for Pacojet AG within the USA.
This founding team served in executive and managerial positions with well-known manufacturers of equipment designed for the food service industry and the modern kitchen. Their vast experience creates the foundation for their passion to provide expert guidance, high quality products, and superior, high quality support to all their clients.
Serving as the exclusive importer of fine brands like the Pacojet, Advanced Gourmet has built the most prestigious line of specialty kitchen equipment available in the USA.
http://pacojetus.com
http://www.advancedgourmet.com
About Pacojet
Over 20 years ago, Pacojet began its journey to become today's global market leader with its unique system for processing fresh, frozen and fresh, non-frozen foods –with practically end- less possibilities. Pacojet is now well established as an indispensable gourmet device in the kitchens of the best restaurants and catering facilities around the World.
Pacotizing intensifies the natural, intrinsic flavors of foods, natural colors are preserved in their vibrancy and the resulting texture is ultra-fine. These creamy final products with a fine consistency serve as bases for savory and sweet creations.
The factors of time savings, lowering costs and reducing food waste add to making Pacojet an economically attractive investment.
Pacojet is manufactured exclusively in Switzerland. Pacojet's high precision machinery and superior quality ensure consistent performance and long life. http://www.pacojet.com