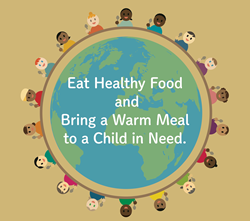 As an NPO with roots in Japan, TFT promotes the enjoyment of Japanese food culture through this campaign and aims to deliver one million meals to children in need.
New York, NY (PRWEB) October 08, 2015
This fall, TABLE FOR TWO USA (TFT), a non-profit organization that aims to tackle obesity and hunger issues simultaneously, will celebrate World Food Day 2015 by holding a "One Million Itadakimasu (or bon appetit!)" campaign from October 16th to November 30th. The campaign, with the theme, "Transform the world with Japanese food," aims to provide 1 million meals to children in need. As a part of the campaign, it will feature the popular Japanese food "Onigiri" (rice ball), and hold major events in New York City, Washington DC, Chicago and California, in addition to an interactive online site (http://jp.tablefor2.org/campaign/onigiri/en/) where TFT supporters and fans can participate and help children in need.
TABLE FOR TWO was first established in Japan in 2007 and has spread to 14 countries including the U.S. Japanese food culture is acknowledged as one of the world's healthiest and is spreading widely around the world. As an NPO with roots in Japan, TFT promotes the enjoyment of Japanese food culture through this campaign and aims to deliver one million meals to children in need. Onigiri is featured to celebrate Rice, one of the major Japanese agricultural products, and to showcase the Japanese tradition of making Onigiri for others with love.
The Itadakimasu campaign will feature a special interactive site that will be launched from October 16th until November 30th; TFT fans and supporters can submit photos of their own Onigiri enjoyment to the site. Sponsor companies (San-J, Zojirushi America, Japan Block Fair, BentOn, Onigilly, Udemy) will donate 5 meals per photo submitted. In Africa, a 25 cent donation funds one school meal to a child. In the U.S., it facilitates a school meal upgraded with fresh vegetables and fruits in low-income neighborhood districts.
In New York City, TFT will participate in the Japan Block Fair on October 18th. Tampopo will sell Onigiri, with portions of the proceeds provided to schools in East Africa and the U.S. Participants can try their own hand at making Onigiri at the TFT booth. Additionally, proceeds from other popular Japanese foods including Miso soup provided by marukome USA will be donated. For each slice of Okonomiyaki (Japanese savory pancake) sold at Oconomi, Otafuku Foods will donate $1, which is enough to provide 4 school meals. During the campaign period, BentOn will sell special healthy Onigiri.
In Chicago, the author of "Onigiri Recipe 101", Reiko Yamada, will hold an Onigiri contest event where participants can create their own unique Onigiri (Oct 17th). In DC, at Hana Japanese Market, Tako Grill, Sushi Express, Sushi Taro and Rice Bar, healthy TFT items with donation will be available. A World Food Day Campaign "Brown Bag" talk (Oct 20th) and "Making Onigiri to Make a Difference" event (Oct 29th) will be held at the Japan-America Society of Washington DC. In California, Japanese catering with donation is available at Sushi Chef Institute and various Onigiri events will be held.
"We are thrilled to be launching our Itadakimasu campaign this fall in an effort to provide meals to children in need," said Mayumi Uejima-Carr, Co-President of TABLE FOR TWO USA. "Anybody can participate in the campaign through the campaign site, events and restaurants. We hope those who participate in the campaign enjoy the unique experience to make a difference by eating healthy Japanese food."
To visit the Itadakimasu campaign site, please visit: http://jp.tablefor2.org/campaign/onigiri/en. For more information about TFT, please visit: http://www.tablefor2.org/home.
About TABLE FOR TWO USA:
In our world of 7 billion, 1 billion suffer from undernutrition, while another 2 billion suffer from obesity. TABLE FOR TWO USA is a 501(C)(3) organization that rights this imbalance by simultaneously addressing the two opposing problems through a unique "calorie transfer" program. By partnering with corporations, universities, restaurants, and organizations implementing our program in their establishments and products, TABLE FOR TWO USA has served healthy meals to both sides of the "table." TABLE FOR TWO initiative was initiated by and is an official affiliate of the World Economic Forum's Young Global Leaders.