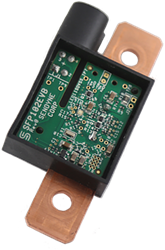 Due to Sendyne's patented Continuous Calibration technology, the module achieves ±0.25% accuracy for any current magnitude
New York, New York (PRWEB) October 08, 2015
Sendyne, a developer of measurement systems and modeling/simulation tools for battery systems and other applications, has released the SFP102MOD, a cost-effective, shunt-based enclosed module capable of current measurements to 375 A, with 45 µA resolution. Due to Sendyne's patented Continuous Calibration technology, the module achieves ±0.25% accuracy for any current magnitude, as long as module is within the wide specified operating temperature range of -40 °C to +125 °C. When attached to properly-sized cables/bus-bars, the SFP102MOD operates with 200 A continuous current, producing less than 45 °C temperature rise (i.e. it operates in up-to 80 °C ambient temperature environment with the continuous current of 200 A).
For customers requiring even greater accuracy, Sendyne offers individually calibrated units that achieve 0.05% accuracy up to 50 A, and 0.1% accuracy up to 200 A.
The module features built-in precision Coulomb counting (charge accumulation), with separate counters for charge, discharge and total Coulombs, enabling accurate State of Charge estimation. The supply voltage range is +3.3 V to +12 V. Communication interface signals are automatically adjusted (level-shifted) to the full supply voltage levels. Power consumption with 3.3 V supply is under 30 mW.
The module was created for applications where accurate current measurements under conditions of widely-changing temperature are essential, such as battery monitoring for industrial, automotive (EV), grid and off-grid storage, as well as photovoltaic arrays, drive controls, and precision current flow measurements (including battery cell characterizations).
The enclosure and shunt were provided by Vishay Dale; the electronics subsystem, including the SFP102 IC, is proprietary to Sendyne.
The standard module is available in quantities of 100 for $48.00.
###
About Sendyne
Sendyne delivers key technologies for battery system management. These include: The SFP family of ICs and modules for precise current, voltage and temperature measurements with built-in Coulomb counting; RTSim, a small footprint, high speed model solver for embedded predictive control; and CellMod— high accuracy, physics-based battery cell and pack models.
For Editorial information contact:
Michele DeCaprio
Marketing Communications
(212) 966-0600 ext. 218
mdecaprio(at)sendyne(dot)com