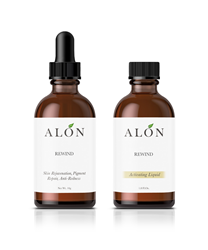 Absolutley the best topical product I've ever used!
(PRWEB) October 09, 2015
Developed by a leading Plastic Surgeon for his wife when the existing products and hi-technology treatments made her hyperpigmentation worse, Alón serums are the result of his surprising findings as he dug deep into the science of existing options. It turns out that the old paradigm involves stripping away the natural defenses of the skin with approaches such as hydroquinone, retinols, low-grade acids, lasers, and even certain Vitamin C products. Ultimately, as he saw with his wife, the more she underwent treatment, the more sun sensitive and irritated her skin became – of course, also worsening her hyperpigmentation.
Luckily, a growing body of evidence points to a new possibility, one in which healing and repair replace irritation and yield positive short and long term results. The Alón REWIND line represents the cusp of this new research. Mitigating the damaging effects of environmental factors such as sun and pollutants, the REWIND line has powerful antioxidants, coupled with anti-inflammatory agents and pro-repair molecules that all work together to synergistically rejuvenate the skin without causing irritation or stripping away natural defenses. Over time, vibrant and healthy skin reappears while the damaged skin fades away.
Alón products consist of nature's most potent and safe ingredients without preservatives that could irritate your skin, and has been optimized to ensure maximum absorption with our water-based delivery mechanism. What started off as a serum for a spouse to restore the freedom to feel good about her skin and outward appearance has turned into a revolutionary approach in skin health.
You can find Alón products on Amazon, our website, and through select retailers.
For any questions, please contact skin-science@alonlabs.com.