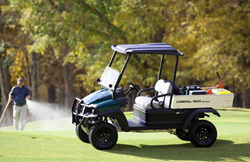 "This machine allows you to tread lightly over any terrain without sacrificing weight capacity." - Leonard Smith, General Manager
Kapolei, HI (PRWEB) October 08, 2015
Ness Turf Equipment, the premier distributor of ag and turf solutions in the Hawaiian Islands, further expands their Club Car product line with the Carryall 1500 2WD. The Carryall 1500 2-Wheel Drive is perfect for jobs requiring hefty labor and low impact. It reaches a top speed of 19mph and features 23" front / 24" rear tires, ideal for protecting turf.
Terence Yogi, Sales Representative, says, "The powerful Carryall 1500 2WD boasts a standard 800-payload, making it capable of taking on almost any size job." Yogi continues, "This machine is also very versatile. An optional 1,500-pound payload platform is available for even larger loads."
Leonard Smith, General Manager, adds, "Don't underestimate the size of the Carryall 1500 2WD. The new Club Car model is a medium-sized vehicle with big capabilities." Smith concludes, "The tires have been redesigned to minimize surface tension, and the new rear-wheel drive train gives it a lot more power. This machine allows you to tread lightly over any terrain without sacrificing weight capacity."
Contact Leonard Smith, General Manager, at 808.486.8301 or lsmith(at)nessturf(dot)com for more information on the Club Car Carryall 1500 2WD.