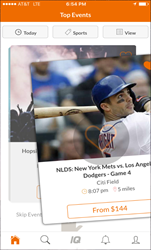 With the TiqIQ app, we're bringing true transparency and the most competitive prices to fans directly on their phone. The more they use the app to do things like track deals, set price alerts, and purchase tickets, the more they save
New York, NY (PRWEB) October 14, 2015
TiqIQ, the leading ticket aggregator and search engine for live events, this week launched its first mobile app for ticket buyers. The new app gives iOS users access to IQ Rewards, a new loyalty platform through which app users can earn up to 10% off IQ Certified Tickets. Using the first swipe format in ticketing, fans can easily track events and deals they're interested in and gain IQ Rewards points.
For its launch, TiqIQ activated discounts on more than 300 Certified sellers that collectively list over $250 million of ticket inventory. In the first week of release, visitors are swiping an average of 40 times per visit. The increased engagement is also driving more purchasing, with the company seeing a 400% increase in the number of people visiting a buying page compared to the mobile web site.
"The ticket market remains highly fragmented with little consumer loyalty," said Jesse Lawrence, TiqIQ's CEO and Founder. "We believe that by providing fans with the most options, the best prices and discounts, as well as the most engaging mobile buying experience, we have an opportunity to change that."
Just by installing the app and enabling location as well as push messaging, app users get 5% off IQ Certified tickets. TiqIQ, already known for their wide selection and great prices, has significantly cheaper prices than other online sellers.
"With the TiqIQ app, we're bringing true transparency and the most competitive prices to fans directly on their phone. The more they use the app to do things like track deals, set price alerts, and purchase tickets, the more they save," said Lawrence.
In addition to providing discounts on the best secondary market deals, the company is also working with teams in New York and California to deliver deal notifications when face value tickets become available below market prices. App users in New York and California who reach 3,000 IQ points will get access to exclusive promo codes and a monthly ticket giveaway in each market.
Over the last five years, TiqIQ has built the most comprehensive set of purchasing options online by offering access to face value tickets directly from the team or box office as well as inventory from hundreds of secondary market exchanges, including the NFL Ticket Exchange, eBay, and local brokers. During that time, TiqIQ has also become a leader in ticket-related content, contributing data and articles to publications like Forbes, ESPN, Bloomberg, The Daily Beast, Music Times, Huffington Post, and CBS Local.
With the release of the app, TiqIQ will provide a new channel for ticket buying to over one million TiqIQ.com visitors each month, as well the over 40 million fans they reach in the TiqIQ Network, which consists of over 2,000 fan-centric publications and social media accounts.
TiqIQ is free and available to download now on iOS devices.
About TiqIQ
TiqIQ is a live event ticket pricing aggregator and search engine that provides flexible buying and selling options. TiqIQ aggregates inventory from the primary sites as Ticketmaster as well as the secondary marketplaces, like the NBA, eBay, and the NHL Ticket Exchange. TiqIQ also allows fans to sell their tickets with no fees through Seller Direct, a free local selling tool and distributes those and other ticket deals to more than 40 million unique visitors across its social and display advertising network of 2,000 high affinity sports, music, and entertainment publishers. For more information, please visit http://www.tiqiq.com.