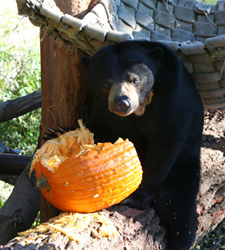 Oakland, CA (PRWEB) October 08, 2015
**FOR IMMEDIATE RELEASE**
Contact: Nicky Mora
Senior Manager, Marketing/PR
(510) 632-9525 ext. 130
Oakland Zoo Hosts Weekend of Happy Halloween Themed Activities
On October 24, Oakland Zoo is hosting a new overnight experience called, Family Sundown SPOOKfari. The program is designed include outdoor camping, pumpkin carving, scary stories, an eerie nighttime tour, and will also involve creepy, crawly animals. Participants will make Ghost S'mores before turning down for bedtime and will wake-up for a hot breakfast. In the morning, they will also deliver their spooktacular pumpkin presents to specific animals. This event begins at 5:00pm on Saturday, October 24 and ends at 10:00am on Sunday, October 25. Pre-registration is required. There is a program fee of $85.00 per person and participants must bring their own tents. Meals and parking is included with the cost and campers can attend Boo at the Zoo festivities free of charge on Sunday, October 25. For more information, call (510) 632-9525, ext 220. Or, go to:
http://www.oaklandzoo.org/Calendar_Item.php?i=1288
On October 24 & 25, from 10:00am – 3:00pm, Oakland Zoo and Bay Area Science Festival are banding together for Boo at the Zoo. The Halloween and science themed weekend features a spooky scavenger hunt for kids, monster mash dance party, up-close animal encounters, freaky interactive stations, face painting, and a Wildlife Theater presentation focused on what some consider scary animals. Family friendly activities will take place throughout the Zoo, including a treat table where families can create Halloween goodies for the Zoo's animals.
Boo at the Zoo is a day-time opportunity for families to bring out their noble ninja turtles, tiny tinker bells, precious princesses, and spectacular superheroes to an outdoor adventure filled with frightening fun. This event is presented by Primal Pet Foods and Ghirardelli Chocolate Company is the official chocolate sponsor of Boo at the Zoo – offering sweet samples for treat bags, which will be located in Oakland Zoo's Adventure Landing. Boo at the Zoo is open from 10:00am – 3:00pm. Admission prices are $13.75 for children/seniors and $17.75 for adults. Parking is $9.00 per car. Boo at the Zoo activities are included with general admission. For more information, go to: http://www.oaklandzoo.org/Calendar_Item.php?i=1152
Boo at the Zoo's Daily Details:

Spooky Scavenger Hunt: search for clues throughout Oakland Zoo.
Children in costume (ages 2-14) receive a free ride ticket.
Monster Mash Dance Party at 11:30am and 1:00pm
Wildlife Theater Animal Encounters at 11:20am and 1:20pm.
Science stations will feature "Zoombie" animals, monster myths, and sensory skills – touch the foods zoo animals like to eat.
Crafty Halloween creations for Zoo animals
Meet the Oakland Fire Department
Meet the Oakland Police Department
Get batty with festive face painting
Corporate Sponsors of Boo at the Zoo:

Primal Pet Foods, Presenting Sponsor
Ghirardelli Chocolate Company
Bay Area Science Festival
Bay Street Mall
Scholarshare
"Treat" Sponsors of Boo at the Zoo:

Clif Bar & Company
GoGo Squeez
Ghirardelli Chocolate Company
LARABAR
Jammy Sammy (Plum Organics)
Yowie
Jelly Belly
Noosa Yoghurt
Local Organizations Attending Boo at the Zoo:

Oakland Fire Department
Oakland Police Department
Bay Area Puma Project
Felidae Conservation Fund
Primal Pet Foods
ABOUT OAKLAND ZOO
The Bay Area's award-winning Oakland Zoo is home to more than 660 native and exotic animals. The Zoo offers many educational programs and kid's activities perfect for science field trips, family day trips and exciting birthday parties. Nestled in the Oakland Hills, in 500-acre Knowland Park, the Zoo is located at 9777 Golf Links Road, off Highway 580. The East Bay Zoological Society (Oakland Zoo) is a nonprofit 501(c)3 organization supported in part by members, contributions, the City of Oakland and the East Bay Regional Parks. For more information please visit our website at http://www.oaklandzoo.org.
ABOUT BAY AREA SCIENCE FESTIVAL
Bay Area Science Festival is presented by Chevron. Our mission is to celebrate the Bay Area's scientific wonders, resources, and opportunities by exploring the role of science, engineering, and technology locally & in the world. Created by the Bay Area's scientific, cultural, and educational institutions, the 5th annual Bay Area Science Festival returns October 22nd – November 7th 2015. The Science & Health Education Partnership (SEP) at the UC – San Francisco (UCSF) is pleased to produce the festival alongside a core group of science institutions. The festival will provide a wide range of science & technology activities – lectures, debates, exhibitions, concerts, plays, workshops, etc. –at a variety of locations throughout the Bay Area. For more information on the festival as a whole and for details on specific events, please visit the BASF website at http://www.bayareascience.org. You can also follow us on Twitter @bayareascience and like us on Facebook: facebook.com/bayareascience.
###