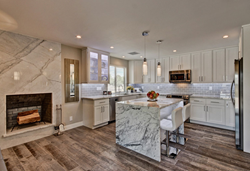 Anaheim, CA (PRWEB) October 08, 2015
CabinetDIY, a leader in Ready to Assemble (RTA) cabinets, is pleased to announce they have added Uptown White Cabinets to their product range. The new cabinets are available to view on their new online store, where consumers can see the styles available.
The new Uptown White Cabinets give the homeowner who is remodeling their kitchen a new clean style of cabinets that can provide a fresh look. The new style of cabinets make remodeling a kitchen more affordable and can be installed either by the homeowner or a professional. With the Uptown White Cabinets being easy to install, where they use metal-bracket interlocking mechanism, wood glue, and a screw driver, it allows the homeowner to save even more money by not needing professional installers.
Remodeling a kitchen and choosing the right design can be complicated. Not knowing what a kitchen should look like or could look like results in tens of thousands of people making mistakes. That is why CabinetDIY has a large range of RTA cabinets available, with different colors, designs and made out of different material. The new Uptown White Cabinets, which are the latest additional to a large number of cabinets available give homeowners choice of styles and colors for their new kitchen.
CabinetDIY provides homeowners with a real solution of remodeling a kitchen at a more affordable rate than having a professional kitchen design company undertake the task. The RTA cabinets give people the chance to have a kitchen that offers a clean fresh look. With the cabinets being easy to install, more money can go into the design of the kitchen rather than spending it on professional installers.
The Uptown White Cabinets can be delivered direct to the homeowner. For more information on the wide range of affordable kitchen cabinets available, or to visit the new mobile friendly website, please visit http://www.cabinetdiy.com
About CabinetDIY
CabinetDIY was established in 2004 to provide professional interior design services and products throughout North America and beyond. The company's team takes each customer's need, complaint or suggestion seriously, constantly improving their services and products to meet the demands for quality, uniqueness and diversity of the today's generation.