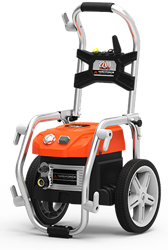 'This pressure washer is designed to simplify consumers cleaning tasks unlike any other product on the market. The pressure control knob allows the user to set the right water pressure for every job hassle free.' ~ John Plocic, VP & General Manager
Kennesaw, GA (PRWEB) October 09, 2015
SUMEC introduces a new residential pressure washer with features commonly found in professional grade models. The Yard Force 2200 PSI (Model: YF2200BL) features patented brushless motor technology to provide residential consumers high performance in a long lasting durable pressure washer. It also is equipped with a pressure control knob that enables the user to safely clean a vast range of surfaces at the appropriate PSI.
The patented brushless technology means the Yard Force 2200BL is fitted with a more durable motor that provides consumers higher overall power and greater efficiency. Brushless motor technology also means that this pressure washer will need less maintenance and have a longer life compared to non-brushless motors.
The Yard Force 2200BL's unique pressure control knob allows users to quickly and easily adjust water pressure to tackle a wide variety of cleaning tasks around the house from muddy driveways to dirty windows and other areas. Simply select the desired PSI from one of four easy adjustable settings (2200, 1900, 1600, or 1300 PSI) to go from cleaning patio furniture to blasting brick with just a click.
"This pressure washer is designed to simplify consumers cleaning tasks unlike any other product on the market. The pressure control knob allows the user to set the right water pressure for every job hassle free." ~ John Plocic, VP & General Manager
The Yard Force 2200BL pressure washer is powered by a 13 Amp electric motor engineered to deliver up to 2200 PSI of cleaning force at 1.3 GPM. This pressure washer is designed for easy transport and storage featuring a quick release fold down handle, 25' hose and 35' power cord with GFCI. The Yard Force 2200BL Electric Pressure Washer spray gun comes with four Quick Connect Tips and a bonus Turbo Nozzle and backed with a 3-year limited warranty for only $349.
Learn More about Yard Force
To learn more about the Yard Force 2200 PSI Pressure Washer (Model: YF2200BL), please visit YardForceUSA.com.
YardForce is the one-brand solution for electric and gas Outdoor Power Equipment.
SUMEC North America is a manufacturer of innovative outdoor power equipment for a broad range of users across the globe. Yard Force brand products can be purchased in national retailers and online throughout the US and Canada.