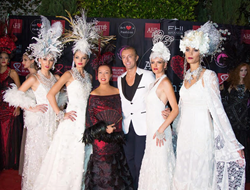 As a Princess and author, I like fashion that is unique, creative, gorgeous and elegant. Only Sue Wong combines all those attributes in her unique designs.
Los Angeles, CA (PRWEB) October 08, 2015
Internationally renowned designer SUE WONG galvanized the spirit and essence of Fashion in a visionary display of seduction on her Spring 2016 runway: Classicism juxtaposed with Avant-Garde edginess. Her ALCHEMY & MASQUERADE Spring 2016 Collection opened Art Hearts Fashion Week at the grand Taglyan complex in the heart of Hollywood, hypnotizing the audience beyond all expectations. The invitation-only, sold-out (over 1,000 people) standing room only event featured media, press, stylists, fashion editors, celebrities and ambassadorial delegates; as well as Sue's many friends in Art, Music and Entertainment.
The show was introduced by British actor Max Ryan of "Sex and the City". The acclaimed designer received double recognition honors. The California State Assembly presented Sue with a special recognition award in honor of her excellence in Fashion and the world of Design and extending her vision as lifestyle empowerment and awareness across the world. His and Her Royal Highnesses Prince Waldemar and Princess Dr. Antonia Schaumburg-Lippe presented Sue with a special Lifetime Achievement Award. Their son HH Dr. Prince Mario-Max Schaumburg-Lippe -- a multi award-winning actor and entertainer -- transported the audience into the realm of ALCHEMY & MASQUERADE with his enigmatic dance performance, a prelude to the show. Popera artist Michael Peer closed the mesmerizing show with his spell-binding performance of "Phantom of the Opera". Rockers Chris Pitman (Guns N' Roses), Ralph Rieckermann (Scorpions) and many celebrities including: Barbie Blank (E!, WAGS), Ariane Andrew (E! Total Divas), Jasmine Dustin (Being Mary Jane), Briana Evigan (Lead actress in Step Up 2), Vanessa Evigan (Whatever It Takes, Sand Sharks), Claire Buitendorp (E! Total Divas, VH1 #Twinning), Sawn Buitendorp (E! Total Divas, VH1 #Twinning), Carolyn Hennesy (True Blood), Heisha Castle-Hughes (Game of Thrones), Alice Amter (Big Bang Theory), Shelley Regner (Pitch Perfect, Pitch Perfect 2) and Cody Saintgnue (MTV's Teen Wolf) attended.
Celebrity guest models featured Eugenia Kuzmina, Blanca Blanco and Katie Cleary who walked the SUE WONG runway like iconic Goddesses delivering the message of allure, glamour and feminine beauty as pure Alchemy in the unique signature that is synonymous with SUE WONG.
Headdresses and special sculptural constructions by Rocky Gathercole – For the Stars Fashion House informed the Sue Wong runway with an arty edginess. Maritza Regalado, Atzi Designs; What a Betty, Betty Long; and Kicka Custom Design complemented the gowns with spectacular headdresses in a crescendo of beauty and adrenaline, delivering a unique hybrid vision. The ubiquitous jewelry of Vilaiwan designed by the talented Joe Polthakorn and handbags by Mary Frances, completed the SUE WONG vision. Sue Wong's Spring 2016 Collection takes her signature bead-work, embroidery and hand-wrought couture techniques to never-before-seen heights, delivering a jaw-dropping fashion slipstream of Neo-romanticism and mesmerizing beauty. It was an exploration into the darkly-romantic, German Gothic spirit accessed via the designer's underground music choices and underscored by her provocative styling. Today's globalization is about Alchemy and Sue Wong's ALCHEMY & MASQUERADE Spring 2016 Collection features unique couture looks to more streamlined pieces and everything in between.
Prince Mario-Max Schaumburg-Lippe shared: "Opening with my Broadway-inspired dance was a dream come true for me. SUE WONG models presented the artistic, gorgeous qualities of these gowns - epitomizing regal beauty." Prince Waldemar Schaumburg-Lippe described: "Being a German Prince with a 1100 years of Royal lineage, I have never experienced the level of Sue Wong´s artistry and creativity. SUE WONG designs resonate American royalty." Princess Antonia Schaumburg-Lippe articulated: "As a Princess and author I like fashion that is unique, creative, gorgeous and elegant. Only Sue Wong combines all those attributes in her unique designs." Mrs. Alexandrina Doheny (of the legendary Doheny family) exclaimed: "I found Sue Wong's gowns and fashion show to be beyond fantastic and absolutely divine".
Every SUE WONG gown is a statement of the dance between Alchemy and Masquerade, a symphony of dark drama and transcending light – as Sue insightfully shares: "The real power and alchemy comes from within one's true self. Does it wear you, or do you wear it?" This holds true to her Spring 2016 Collection itself – the personification of Fashion, celebrating every woman - from exhilarating cutting edge to classic romantic elegance.
ABOUT SUE WONG
Los Angeles designer Sue Wong is known for dazzling fashionistas with her couture techniques and glamorous signature style, combining the allure and elegance of iconic bygone eras with a modern sensibility to create timeless works of art. Distinguished by the impeccable quality of traditional couture dress making, her designs are steeped in romance and mystery while being thoroughly modern and accessible to women everywhere. Sue continues to forge new ground in defining fashion that transcends generations and boundaries even as she creates masterpieces of passion and desire expressed through inimitable style. She has dressed countless celebrities including Anne Hathaway, Jessica Biel, Minnie Driver and Taylor Swift. SUE WONG is available nationwide at specialty boutiques, major department stores including Neiman Marcus, Saks Fifth Avenue, Nordstrom, Bloomingdale's, Lord & Taylor, Macy's and internationally in over 27 countries.