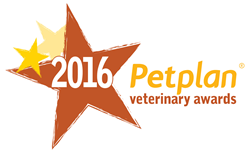 Newtown Square, PA (PRWEB) October 08, 2015
After pawing through over 4,800 nominations from pet parents across North America (a Veterinary Awards record!), Petplan, America's best-loved pet insurance provider, is proud to announce the Semifinalists for its 2016 Veterinary Awards.
Voting for the Semifinalist round happens at http://www.GoPetplan.com/vet-awards/vote and runs through 11:59 p.m. EDT on October 13. Fans and friends of the Semifinalists can vote for their favorites to show support, and the results will be put before the Veterinary Awards Judging Panel. Comprised of pet health professionals and veterinarians, the Panel will consider the nomination criteria and public votes in selecting three top dogs in each category to advance as Finalists, as well as choose the Pet Parent of the Year. Those names will be revealed October 15.
"After the incredible reception our Awards received in 2015, we couldn't be more excited to present the 2016 program. Many of last year's winners said the Awards were a once-in-a-lifetime event," said Natasha Ashton, co-founder and co-CEO of Petplan. "We're so proud not only to put pets first at Petplan, but also to recognize the professionals who keep our pets healthy and honor their enormous contributions to the veterinary profession at the Awards Dinner."
The Semifinalists who got tails wagging in each category are as follows:
Practice of the Year
Animal Hospital of Cambridge – Cambridge, ON
Caring Hands Animal Hospital – Alexandria, VA
Long Island Veterinary Specialists – Plainview, NY
Metzger Animal Hospital – State College, PA
Oradell Animal Hospital – Paramus, NJ
PAWS Veterinary Center – Tucson, AZ
Veterinarian of the Year
Dr. Sean Aiken, Veterinary Specialty Hospital of San Diego – San Diego, CA
Dr. Jennifer Baez, Center for Animal Referral and Emergency Services (CARES) – Langhorne, PA
Dr. Karmen Couret, Stone Veterinary Hospital – Watertown, CT
Dr. Amy Randall, Animal Allergy and Ear Clinic – Beaverton, OR
Dr. Gregory Todd, Animal Hospital of Dunedin – Dunedin, FL
Dr. Drew Van Niekerk, Calgary North Veterinary Hospital & Emergency Service – Calgary, AB
Veterinary Technician of the Year
Tara Arsenault, LVT, Queen Village Animal Hospital – Philadelphia, PA
Samantha Covey, RVT, Alicia Pet Care Center – Mission Viejo, CA
Stephanie Dane, CVT, Arvada West Veterinary Hospital – Arvada, CO
Lona Gibbs, CVT, Southern Oregon Veterinary Specialty Center – Medford, OR
Annette Kim, RVT, Abbotsford Animal Hospital – Aurora, ON
Amy Schiller, CVT, Valley View Pet Hospital – Burnsville, MN
Practice Manager of the Year
Nicole Burruss, Red Barn Veterinary Hospital – Dahlonega, GA
Jennifer Harris, Hillside Veterinary Hospital – Victoria, BC
Kristine Lee, Advanced PetCare of Oakland – Clarkston, MI
Carl Nix, Pellissippi Veterinary Hospital – Knoxville, TN
Kristie Townsley, I-20 Animal Medical Center – Arlington, TX
Jody Weaver, CVT, Rau Animal Hospital – Glenside, PA
Receptionist of the Year
Scott Backman, West Hollywood Animal Hospital – West Hollywood, CA
Matthew Bandy, Allen Veterinary Centre – Allen, TX
Andrea Campbell, Taunton Road Animal Hospital – Oshawa, ON
Crystal Dawson, Northpointe Animal Hospital – Lynnwood, WA
Theresa Eddy, Fanwood Animal Hospital – Fanwood, NJ
Cheryl Smith, Snowflake Pet Center – Milford, CT
Pet Parent of the Year
Erin Kowalski, Bialy's Wellness Foundation and AURA Natural Pet, LLC – Chicago, IL
Dan McFarling, ParkerPup – Aloha, OR
Judy Fridono, Surf Dog Ricochet – Escondido, CA
Winners will be announced on January 16 at Petplan's 2016 Veterinary Awards Dinner at the Four Seasons Resort in Orlando, FL, held in concert with the North American Veterinary Community (NAVC) Conference. Dr. Jules Benson, Petplan Chief Veterinary Medical Officer, will emcee the evening, which includes a keynote address by renowned veterinarian Dr. Andy Roark. All finalists receive a three-day, all-expenses-paid trip to attend the gala – the paw-fect opportunity for some well-deserved down time!
The overall winner in each category will be awarded a $1,000 cash prize and a $1,000 donation to a pet-related charity of their choice. Remember, voting is now open – let your paws do the talking!
To learn more about Petplan or the Veterinary Awards, please visit http://www.GoPetplan.com/vet-awards.
###
ABOUT PETPLAN
Petplan is more than a pet insurance provider. We're dedicated to providing pet parents with the support, resources and tools they need to keep their pets not just surviving—but thriving—into their old age. Simply put, we aim to be the kind of company that will make our pets proud. For the third consecutive year, Petplan was listed among the top 50 companies on Forbes' annual ranking of America's Most Promising Companies – a list of 100 privately held, high-growth companies with bright futures. Petplan is the only pet insurance provider to have been included on Inc. Magazine's list of 500 fastest-growing, privately held companies in America.
Petplan's fully customizable cat and dog insurance policies provide comprehensive coverage for all hereditary and chronic conditions for the life of the pet as standard. Petplan policies are underwritten by AGCS Marine Insurance Company in the U.S. and by Allianz Global Risks US Insurance Company in Canada. The Allianz Group was rated A+ by A.M. Best in 2014. For more information about Petplan pet insurance, visit http://www.gopetplan.com or call 1-866-467-3875.
ABOUT PETPLAN'S VETERINARY AWARDS
Now in its fifth year, the Petplan Veterinary Awards honor the important work of North America's veterinary professionals who go above and beyond, providing pets with exceptional care and clients with exceptional customer service. Petplan is proud to carry on the tradition of rewarding excellence in veterinary medicine fostered by our sister company, Petplan UK, whose own Vet Awards are Britain's pre-eminent industry celebration. For more information about Petplan's Veterinary Awards, please visit http://www.GoPetplan.com/vetawards.