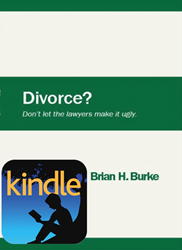 Burke calls it 'The Ugly Lawyer Book'
Santa Barbara, California (PRWEB) October 22, 2015
Now available for pre-order on Kindle, "Divorce? Don't Let the Lawyers Make it Ugly" from Navigate Divorce Guide is an extraordinary new book on divorce aimed at demystifying the process and showing how tactics commonly used by divorce lawyers can disrupt resolution and inflate legal costs. Written by seasoned family law attorney Brian H. Burke, this book is a must-read for individuals at any stage of the divorce process.
Burke realized early in his career that the system is set up so that clients who select, trust and pay a lawyer are often betrayed in ways that don't violate the Rules of Professional Conduct and are therefore not "wrong."
For better or worse the relationship between client and lawyer can become the critical aspect of a divorce. A good lawyer can guide the client to the destination of choice while avoiding unnecessary and costly complications. Unfortunately, there are many divorce lawyers who will take the client to the destination of choice via a route that's complicated, perilous and expensive.
"Divorce? Don't Let the Lawyers Make it Ugly" illustrates how to tell one kind of attorney from the other so the consumer will know if he is on the course that's best for him or if he is on a course that's best for his lawyer. With this book now on Kindle, it's easy to find out which kind of lawyer has been engaged and whether case complications are inevitable or encountered for the benefit the lawyer's wallet.
Burke calls it the "ugly lawyer book". He created the online quiz at NavigateDivorceGuide.com to personalize the lessons in the book. The Quiz can't give an unqualified evaluation of the client's attorney, but it will give a sense of whether the attorney-client relationship is solid or suspect. If suspect, this Kindle book provides guidance to make informed judgments about whether the legal work being paid for is being done on behalf of the client.
The divorce resource website at Navigate Divorce Guide is the culmination of Attorney Brian H Burke's 40+ years of experience in the field of law. He has been certified by the California Board of Legal Specialization as a Family Law Specialist for 32 years and has witnessed innumerable divorces in that time.