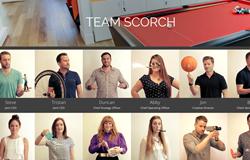 The new website is a big step forward in the way we present ourselves to the world.
(PRWEB UK) 12 October 2015
New website from leading UK advertising agency Scorch London offers users a more compelling experience, thanks to its responsive design and use of high quality videos and imagery. The site also includes a unique and quirky team page.
Scorch London is pleased to announce the launch of its new website, designed to better reflect their growing advertising agency status, and more effectively showcase their industry leading portfolio.
Created with the client experience firmly in mind, the site's main focus is the work, with a large portfolio of videos, animations, advertising campaigns and imagery to choose from, the design had to make the most of these eye-catching visuals.
As Tristan Ramsay, Scorch London Joint CEO, explains, "Our previous website was very functional, but we knew we wanted to deliver a more high-end visual experience to our clients, so a brand new website was the answer. The new website not only allows seamless performance across devices, it's also a big step forward in the way we present ourselves to the world. Definitely one which much better reflects the growing ad agency that Scorch London is today".
Quirky team page
As well as continuing to provide users with information about its full service range and showcasing their astounding work, the website also includes a quirky team page. By using the cinemagraph technique, Scorch London team members fired up their imagination to help creating an intriguing mix of funny and quirky cinemagraph photos.
Garth Vickers, Senior Motion Designer at Scorch London, the man behind the creation of each cinemagraph, commented, "I was delighted to hear we would be using this groundbreaking technique to create our team page. I had a great time working with each team member to bring their ideas to life. I couldn't be happier with the end result".
To visit the new website, please go to: http://www.scorchlondon.com
About Scorch London
Founded in 2006 by experienced directors, Tristan Ramsay and Steve Jay, Scorch London has grown from humble beginnings as a boutique agency into one of the UK's leading full service advertising agencies. Working across a wide variety of disciplines ensures that they are constantly innovating and striving for new ways of doing things.
Over the last nine years Scorch London has produced integrated advertising campaigns and branded video content for a diverse range of clients. These include key players in the automotive, fashion, technology, finance and FMCG sectors.
Scorch London has strategists, creative teams, a production department, and one of the largest design and animation teams anywhere, which gives them the capability to handle large and complex integrated campaigns as well as self-contained high-end TV commercial production work.
See more at: http://www.scorchlondon.com/about/