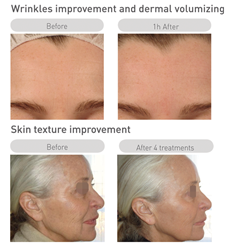 "The Hybrid Energy treatment triggers the body's natural healing response mechanism in a safe and effective process, with minimal pain and side-effects."
Tel Aviv, Israel (PRWEB) October 12, 2015
Pollogen Hybrid Energy micro-needle RF treatments (also known as VoluDerm) provide visible results for those hard to treat facial areas – eyes, upper lip and neck without pain or downtime.
Pollogen Ltd., a global leader in the development of medical devices for the aesthetics market, announced the publication of a new article evaluating the use of Pollogen Hybrid Energy micro-needle RF to achieve increased collagen regeneration and dermal volumizing. The study was recently published in Prime the International Journal of Aesthetic and Anti-ageing Medicine. The study entitled "Skin Rejuvenation with Hybrid Energy," was authored by Dr. Ghislaine Beilin the Vice President, Fédération Syndicale des Médecines Esthétiques et Anti-Age (FSMEA), Paris, France.
Hybrid Energy is a minimally invasive solution that uses fine micro-needles combined with radio-frequency and a non-thermal electrical energy to gently ablate the epidermis and create micro cold ablation in the deeper dermis layer for optimal facial contouring, dermal volumizing and wrinkle reduction. The micro-needles stimulate the body to naturally produce hyaluronic acid, new collagen and elastin.
"The Hybrid Energy treatment triggers the body's natural healing response mechanism in a safe and effective process, with minimal pain and side-effects."
The author's clinical experience with Hybrid Energy treatments using the Pollogen Surgen platform demonstrated that Hybrid Energy successfully achieved visible results for typically hard to treat areas: the neck, upper lip and eyes. No significant adverse effects were observed and treatments were well tolerated by patients with minimal to no pain and no downtime.
Mr. Moshe Shneor – CEO Pollogen Ltd. "We are happy with the results of Dr. Beilin's clinical study. This study shows how Pollogen technologies, specifically Hybrid Energy is a safe, effective and painless treatment delivering significant immediate and long term results."
About Pollogen
We believe in constantly challenging ourselves to create the most advanced, effective medical aesthetic technologies and solutions. We believe in thinking differently.
In everything we do, we take a customer-centric approach by making our products user-friendly, safe and convenient. We believe in finding ways to develop technologies that work with the body's natural mechanisms so beautiful results are generated from within.
Pollogen is the developer and manufacturer of five revolutionary technologies under the industry premier brand names OxyGeneo®, VoluDerm™, Hybrid Energy™, TriPollar®, TriLipo® and TriFractional™. We offer a full line of clinically-proven, safe and effective, non-invasive anti-aging facial and body contouring treatment platforms for a wide range of aesthetic applications. Pollogen provides solutions for professionals in over 60 countries, addressing the specific needs and dynamic changes unique to the ever-evolving aesthetic industry