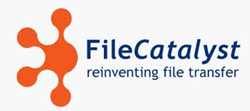 FileCatalyst Direct 3.5 is our smartest, fastest, most user-friendly version of our software yet. We encourage everyone who hasn't experienced the power of FileCatalyst to come and visit us at Broadcast India.
Ottawa, Canada (PRWEB) October 08, 2015
Unlimi-Tech Software, Inc., a pioneer in managed file transfers and the Emmy® Award winning creator of FileCatalyst, will be attending Broadcast India and will be demonstrating their latest release, FileCatalyst Direct 3.5, as well as showcasing the latest updates to the FileCatalyst product suite. FileCatalyst will be exhibiting in booth E-541 with technology partner QC Infotech, additionally they will be exhibiting with technology partner SRSG in booth A-104.
FileCatalyst Direct - the company's flagship product - is a suite of client and server applications that perform point-to-point accelerated file transfers at speeds of up to 10 Gbps. The latest version, FileCatalyst Direct 3.5, was unveiled at IBC 2015, and offers users new options to transfer files of any size and format, at speeds of up to 10Gbps.
FileCatalyst 3.5 is now fully integrated with - and can save data directly to - Amazon S3, making it easier than ever for users to share their large media files in the cloud as opposed to having to store files on premise. FileCatalyst will be demonstrating the S3 integration at Broadcast India, as well as the upcoming integration with Microsoft Azure Blob.
FileCatalyst Direct 3.5 offers extended support for dynamic files. A Dynamic Files option expands the support for growing files: files can be transferred as they grow, a user can wait until the growth of a file is complete before transferring, or a user can re-transfer deltas that have changed once the transfer is complete. All of which are beneficial to clients who broadcast live media events.
FileCatalyst will also demonstrate the next generation of accelerated file transfer tools, including new and improved features for TransferAgent, a full-featured web browser application for highly accelerated file transfer with no reliance on a Java plug-in.
Additionally, our Indirect Channel Manager, Elton Carneiro, will be speaking on the subject of "Taking Media File Transfers from Days to Minutes", which will provide a comprehensive introduction to our accelerated file transfer software on Thursday, October 1 from 12:00-12:30 pm.
FileCatalyst founder and CEO, Chris Bailey said, "FileCatalyst Direct 3.5 is our smartest, fastest, most user-friendly version of our software yet.This will provide benefits to our customers and our partners. We encourage everyone who hasn't experienced the power of FileCatalyst to come and visit us at Broadcast India."