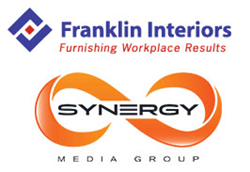 "This partnership is a potentially industry changing approach."
Pittsburgh, PA (PRWEB) October 12, 2015
Franklin Interiors and Synergy Media Group, leaders in the tri-state furniture and technology markets, are proud to announce a strategic partnership aimed at delivering innovative workplace ecosystems.
"This partnership is a potentially industry changing approach that will benefit both our clients and Synergy's clients by providing more cost effective workplaces," says Ralph Dallier, President of Franklin Interiors.
A year in the making, representatives from both companies have been engaged in training sessions with one another to fully understand the potential impact this partnership will have on the design market.
"Imagine an environment where furniture and technology comprise a unified solution, and not an afterthought to the architectural design. This is where the industry is headed, and we believe this partnership with Franklin will really define what that solution looks like," add Bill McIntosh, President of Synergy Media Group.
"Synergy gives Franklin Interiors the ideal partner to integrate technology seamlessly into our workplace solutions for our clients," says Ralph.
About Franklin Interiors
Franklin Interiors combines architecture, furniture, and technology to create workplace solutions that help people and their organizations work more effectively. They are proud to be an Authorized Dealer for Steelcase, the world's leading design and manufacturer of office furniture.
About Synergy Media Group
Synergy Media Group is a close knit team of audiovisual technology designers, programmers, and technicians based out of Pittsburgh, PA. They create technology environments that enable organizations to present, share, collaborate, and interact in a single room or across the globe.