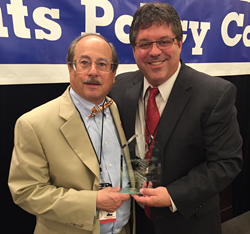 Atlanta, GA (PRWEB) October 09, 2015
Mark Walters, Host of two nationally syndicated radio broadcasts, Sundays Armed American Radio and the daily Armed American Radio Daily Defense programs, was the 2015 recipient of the Gun Rights Defender of the Year award at the annual Gun Rights Policy Conference (GRPC) held in Phoenix, September 25-27. Returning to Arizona this week, Mark finalizes the 2015 scheduled stops on this years AAR Live Broadcast Tour after a speaking engagement at the Arizona Citizens Defense League annual meeting on Saturday, October 10th in Tucson.
"I am humbled beyond words to have won the 2015 Gun Rights Defender of the Year Award at this year's GRPC. It takes a lot to leave a person that talks for a living speechless, but this did it. My heartfelt thanks to everyone at the Citizens Committee for the Right to Keep and Bear Arms (CCRKBA) and Second Amendment Foundation for presenting me with such an honor. I'm also looking forward to speaking this weekend at the Arizona Citizens Defense League annual meeting in Tucson as this incredible group looks ahead to a brutal battle with the enemies of freedom in 2016. I'm looking forward to lending my microphone to help in any way I can."
Armed American Radio is heard every Sunday 8-11p ET, 5-8p PT in hundreds of cities. AAR Daily Defense with Mark Walters airs M-F, 4-5p ET, 1-2p PT across America.
About the USCCA:
The U.S. Concealed Carry Association (USCCA) is the first and largest, member-owned association designed to educate, train, and insure responsibly armed Americans. USCCA members receive access to a wealth of industry information and insurance protection through its Self-Defense SHIELD program. The USCCA also provides expert advice, product information, and the latest news centered around the concealed carry lifestyle via email, social media, Concealed Carry Magazine, and their nationally syndicated radio program Armed American Radio.
###