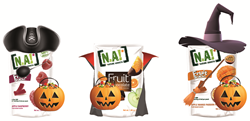 Fruits, fruits and only fruits, the ideal treat for Halloween
New York, New York (PRWEB) October 15, 2015
Around Halloween and the holidays, parents are often worried about the sugar intake of their little ones. With the amount of candies collected in one day for Halloween, children could basically stay on a high sugar level until the following year.
So here area few recommendations for the big day in order to avoid some of the unwanted effects of this fun celebration:
Arrange to feed children with a healthy meal before heading out for the fun. A full stomach will prevent gulping down a huge quantity of treats.
Be careful with some of the treats handed out: high fructose corn syrup, the common sweetener, is an ingredient often found in candies. Instead, focus on fruit-based treats, rich in fibers.
Make sure that the children go for the bite-size treats. They are more reasonable in dose than eating a whole bar.
Discuss with your children ahead about eating with moderation. Talk about making smart choices. It will help them not only around Halloween but also as adults.
Don't spoil the fun and explain that this is a special day where some of every day rules might not apply.
About Nature Addicts
Nature Addicts has developed a unique fruit snack, 100% made with fruits and only fruits. With ingredients such as Mango and Passion, Raspberry and Apple, fruits rich in fibers, protein and carbs, NA's are suitable for everyone. Gluten Free, non-GMO, Vegan and Vegetarian, this bite-size fruit treat, available in a resealable bag, makes the ideal natural treat for children.Launched in 2014 in the United States, Nature Addicts has reinvented the world of snacking by creating the non-sticky fruit snack.
Brands Within Reach, LLC is the exclusive distributor of Nature Addicts in the United States.
1.847.720.9090
Brands Within Reach, LLC
Mamaroneck, NY 10543