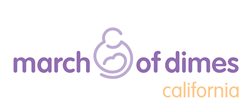 The US has one of the highest rates of preterm births and infant mortality among high-income countries," said Celia Wheeler, Executive Director of March of Dimes, Orange County.
Los Angeles, CA (PRWEB) October 08, 2015
October 15, 2015 is "Infancy and Pregnancy Loss Awareness Day". It was this knowledge that helped inspire singer/songwriters Mary Desmond and Tony Wedral to donate ten percent of the sales from their single "Lily" to the March of Dimes in Orange County, California. "Lily" is a poignant tune that Wedral was inspired to pen the day after the passing of his stillborn niece, "Lily". He collaborated with Desmond to finish writing the song and also trusted her to perform and record it.
The March of Dimes is committed to preventing premature birth, birth defects and infant mortality. They state that there is a link between premature birth and infant deaths. Early births (before 37 weeks of pregnancy) contributed to more than a third of infant mortality in the U.S., according to the U.S. Centers for Disease Control.
"Lily" is an intensely moving song. That "Lily" can help the March of Dimes financially and help to provide information is the good Desmond and Wedral believe can come from the loss of "Lily."
To purchase "Lily" go to: https://itunes.apple.com/us/album/lily/id999388017?i=999388511.
About March of Dimes California
In 2015 the March of Dimes funded 26 research grants totaling $6 million to California research institutions, including UC Irvine, and $4 million to the March of Dimes Prematurity Research Center at Stanford University, the first of five national trans-disciplinary research centers.
About Mary Desmond
Mary Desmond is no stranger to performing and recording. Her EP, "Your Songs Vol.1" was released on to iTunes in 2013 and was followed by 10 more songs for iTunes in late October, 2014. She is also an accomplished musician and offers free guitar lessons on her web site's "school of pop" where instructions on how to play the guitar chords for hits like "We Are Never Getting Back Together" by Taylor Swift, are available in video form.
About Tony Wedral
Tony Wedral is a globally recognized You Tube figure and an active Twitter user. Wedral generally uses social media to entertain teenagers. His emerging skill as a song writer will endear him to them, and to an even wider audience of people who empathize with he and his family's loss of a child.
CONTACT:
Elizabeth Williams, March of Dimes State Director of Communications
(415) 217-6371 ewilliams(at)marchofdimes(dot)org.
Harold Nicoll, Media and Public Relations (979) 292-8026 haroldnicoll(at)gmail(dot)com.