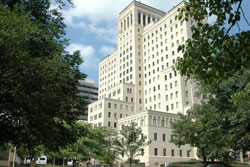 The goal is to keep the patient from needing that more invasive therapy. We want them to be able to maintain stability and have a better quality of life by offering an alternative to LVAD or transplant.
Pittsburgh, PA (PRWEB) October 12, 2015
At first glance, it looks like a mini parachute attached to a toy soldier. Or, perhaps, a cocktail umbrella one would find atop a drink in a tiki bar. But the Parachute® Ventricular Partitioning Device being implanted in some cardiac patients as part of a clinical trial at Allegheny General Hospital (AGH) could potentially signal a new way of treating people with heart failure.
AGH, part of the Allegheny Health Network, is one of 65 medical centers across the country participating in a study of CardioKinetix Inc.'s investigational Parachute implant, the first minimally invasive catheter-based implant device to isolate coronary muscle damaged by a heart attack. By separating the damaged muscle from the healthy part of the heart, blood flow is increased to the functioning part of the heart.
Many patients have an enlargement of their left ventricle after a heart attack, leading to limited cardiac output. This decreased output can cause symptoms of heart failure, including shortness of breath. Up to now, treatment options for patients with an enlarged ventricle suffering from heart failure have included medications, and life style changes. Many of these patients receive an implantable cardioverter-defibrillator (ICD) and others get a cardiac resynchronization therapy device (CRT-D).
"But when those therapies no longer work, many of these patients require an LVAD (left ventricular assist device) or a heart transplant," said David Lasorda, DO, Director of AGH's Division of Interventional Cardiology and the hospital's co-investigator for the Parachute study. "The goal is to keep the patient from needing that more invasive therapy. We want them to be able to maintain stability and have a better quality of life by offering an alternative to LVAD or transplant."
Heart failure affects 6 million Americans annually, according to the American Heart Association, with the number expected to rise to 8 million in the next 15 years. It is the nation's and western Pennsylvania's leading cause of hospitalization among people over the age of 65.
The Parachute is designed for patients who have had a heart attack of the anterior wall. A left anterior descending myocardial infarction – the so-called "widow maker" – is the most damaging type of heart attack. Over time, the healthy part of the heart not affected by the heart attack can become overburdened as it works to compensate for the damaged part of the heart. But doctors are hoping that the Parachute device can help alleviate that risk in a procedure that takes little more than an hour to complete.
Working in the cardiac catheterization laboratory, Dr. Lasorda and his team insert a small catheter into the femoral artery, a large artery in the leg. He then uses the catheter to deploy the Parachute into the left ventricle. Once in place, the Parachute anchors to the walls of the heart and, approximately six months later, is covered by body tissue. The Parachute is a permanent device that is designed to decrease overall volume of the damaged left ventricle in order to remodel and improve the function of the heart so that the healthy cardiac muscle pumps blood more efficiently with each heartbeat.
"Heart failure can be incredibly debilitating and potentially deadly, even when the patient is taking all evidence based treatments" said Srinivas Murali, MD, a heart failure specialist and Director of Allegheny Health Network's Cardiovascular Institute, and Principal Investigator for the Parachute Study. "The Parachute device may offer yet another option to control symptoms, improve exercise tolerance, and reduce the risk of hospitalization and death for heart failure patients. We're proud that AGH is part of this important study that will help to determine if this procedure can slow the progression of heart failure."
AHN's cardiovascular disease program at Allegheny General is recognized by CareChex®, a division of leading healthcare industry analyst Comparion Medical Analytics, as the best in western Pennsylvania in 2015 for medical excellence, patient safety and patient satisfaction. The Network's heart transplant program is ranked in the nation's top 10 programs by Comparion based on the same measures.
For more information about the Parachute trial at AGH, please contact Kenneth Rayl at kray(at)wpahs(dot)org or call 412-359-6860.
About Allegheny Health Network
Allegheny Health Network, part of Highmark Health, is an integrated healthcare delivery system serving the Western Pennsylvania region. The Network is comprised of eight hospitals, including its flagship academic medical center Allegheny General Hospital, Allegheny Valley Hospital, Canonsburg Hospital, Forbes Hospital, Jefferson Hospital, Saint Vincent Hospital, Westfield Memorial Hospital and West Penn Hospital; a research institute; Health + Wellness Pavilions; an employed physician organization, home and community based health services and a group purchasing organization. The Network employs approximately 17,500 people and has more than 2,100 physicians on its medical staff. The Network also serves as a clinical campus for Temple University School of Medicine, Drexel University College of Medicine and the Lake Erie College of Osteopathic Medicine.
About the AGH Cardiovascular Institute
Allegheny General Hospital, the quaternary flagship of Allegheny Health Network's Cardiovascular Institute, offers comprehensive, state-of-the-art care for the complete spectrum of cardiovascular disease. The hospital's nationally recognized medical staff includes specialists in general and interventional cardiology, electrophysiology, leading-edge diagnostic cardiology – including cardiovascular MRI, CT and 3-D echocardiography – women's heart care, heart failure and pulmonary hypertension, heart transplantation and mechanical circulatory support, vascular surgery and wound care, thoracic surgery, heart valve disease and coronary artery bypass surgery. AGH is recognized by leading healthcare industry analyst Comparion as western Pennsylvania's top hospital in quality and safety for overall cardiovascular care and complex heart surgery.
AGH's broad scope of advanced capabilities in the treatment of heart failure offers patients access to cutting-edge investigational therapies being explored in clinical trials, such as new medicines and implantable devices designed to more effectively monitor disease progression and treat conditions before they require hospitalization. The hospital was recently the first in western Pennsylvania to use the latest-generation total artificial heart to provide a bridge to transplantation for patients with end-stage heart failure. It also has become one of just a few national referral centers for advanced treatment of pulmonary hypertension. AGH's heart transplant program is lauded by both Comparion and the National Scientific Registry of Transplant Recipients as having the best patient outcomes of any program in the region.
###