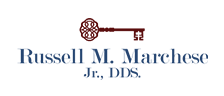 Batavia, NY (PRWEB) October 08, 2015
New patients who are missing one or more of their natural teeth can now receive dental implants in Batavia, NY from Dr. Russell Marchese, without requiring a referral. In addition to placing individual implants, Dr. Marchese also specializes in placing implants that can be used in conjunction with dentures. The latter option is especially helpful for those who are missing multiple teeth or their entire set of upper or lower teeth, and are looking for a more affordable tooth replacement option.
It is surprisingly common for individuals to begin losing teeth as they age, which is why seniors often wear dentures. While genetics can sometimes play a role in how early teeth begin to fall out, there are also many other factors that can contribute to tooth loss. These factors include, but are not limited to, gum disease, injuries and accidents. Unfortunately, when a tooth falls out, it can cause more serious issues than social embarrassment. Over time, individuals can begin to lose bone mass if they do not receive some type of tooth replacement treatment. This is because the roots of the teeth actually serve to stimulate bone growth while also anchoring the teeth in the jaw. When the jaw is no longer stimulated by tooth roots, it begins to degrade. Dental implants in Batavia, NY, can help prevent bone loss by mimicking roots and stimulating the jawbone.
Patients who visit Dr. Marchese for a tooth replacement consultation will receive a thorough examination prior to being given a treatment recommendation. If patients are only missing a few teeth, dental implants may be recommended. If, however, many teeth are missing, Dr. Marchese may recommend a combination of implants and dentures. Both options will help restore the patient's ability to speak and eat naturally while preventing additional bone loss in the jaw. Additionally, patients who receive implants will most likely never need to have their implants replaced, as long as they care for them properly.
New patients who have single or multiple missing teeth are now invited to schedule an appointment with Dr. Marchese to receive implant-supported dentures or regular dental implants in Batavia, NY. For more information about these options, patients may visit his website, http://www.drrussdds.com or call (585) 300-4704 to schedule a consultation.
About the Doctor
Dr. Russell Marchese is a general dentist offering personalized care for patients in Batavia, NY. Dr. Marchese and his team are proud to offer a variety of services including cosmetic dentistry, dental implants, orthodontic care with Invisalign® and more. Dr. Marchese has nearly 30 years of dental experience and is committed to continuous education to stay up to date on the latest dentistry trends. To learn more about the services offered please visit Dr. Marchese's website at http://www.drrussdds.com or call (585) 300-4704.