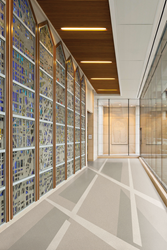 iQ Granit Micro's unique construction makes it possible to restore to the floor's original, natural beauty, even after years of wear, without resurfacing.
Solon, Ohio (PRWEB) October 08, 2015
Tarkett, the worldwide leader in innovative flooring and sports surfaces solutions, has updated the popular iQ™ Granit™ homogenous vinyl flooring collection - offering fifty options, thirty of which are new - and is introducing the iQ™ Granit™ Micro line. Covering more spaces than ever before, iQ Granit is a system of high performing products that work together in commercial spaces, making it easy to transition from one room to another with the same design and color.
Inspired by nature, iQ Granit Micro's tonal, smaller chip design makes it ideal for healthcare, education, retail, hospitality and corporate applications. Available in twelve colors, Micro is designed to work together with the rest of the iQ Granit line, creating a cohesive look with top of the line performance.
Unlike other products that have a factory applied and cured surface coating, iQ Granit and iQ Granit Micro, like all iQ Collections, have a through-and-through construction that allows the product to be dry buffed for the life of the product without any need for harmful chemicals. "Its unique construction makes it possible to restore to the floor's original, natural beauty, even after years of wear, without resurfacing. Just dry buff," Jeremy Salomon, product manager, Tarkett, explains.
In addition to its natural design and cost saving maintenance features, iQ Granit and iQ Granit Micro are both Certified asthma & allergy friendly™ by the Asthma and Allergy Foundation of America (AAFA), phthalate free, TVOC ≤ 10 µg/m, and FloorScore® certified. iQ Granit Micro also has Platinum Certification – the highest level possible – on the NSF 332 Sustainability Assessment Standard for Resilient Floor coverings.
###
About Tarkett
Tarkett is a global leader in innovative and sustainable solutions for flooring and sports surfaces. Offering a wide range of products including vinyl, linoleum, carpet, rubber, wood & laminate, synthetic turf and athletic tracks, the Group serves customers in more than 100 countries worldwide. With 12,000 employees and 34 industrial sites, Tarkett sells 1.3 million square meters of flooring every day, for hospitals, schools, housing, hotels, offices, stores and sports fields. Committed to sustainable development, the Group has implemented an eco-innovation strategy and promotes circular economy. Tarkett's net sales of 2.4 billion euros in 2014 are balanced between Europe, North America and the region comprising CIS countries, APAC & LATAM. Tarkett is listed on Euronext Paris (compartment A, ticker TKTT, ISIN: FR0004188670). http://www.tarkett.com.For information on Tarkett's comprehensive range of Johnsonite commercial flooring solutions, finishing borders and accessories, visit http://www.tarkettna.com.