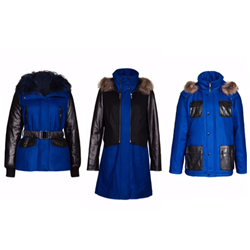 Believing in bringing together timeless design and superior quality. The Wild North outerwear collection keeps you warm and looking stylish.
(PRWEB) October 09, 2015
The Wild North succeeds at bringing together fashion and function in its luxury outerwear lines for men and women. With 8 new styles now available for women and 6 new styles now available for men, The Wild North provides style and choice with its versatile coats and winter clothing collection.
Features have been added to jackets that make them wearable in Fall and Winter seasons with removable liners, hoods, and a three-in-one jacket that transitions seasons well with its unique design. New ski / snowboarding jackets (Aspen and Daisy) have been added to the collection. This year most of the collection has plus sizes especially designed for women's plus apparel.
The Wild North brings together design and quality. The jackets are warm and stylish.
European trend driven the jackets are made with quality material, fabric, and high-fill-power down insulation. Many of the jackets have removable fur trim, hoods, removable liners and hidden media pockets. The jackets are water repellent, light resistant, breathable, and consist of shearling, wool and leather. Jacket technology is explained in detail on the Wild North website.
As a Canadian company, materials are sourced from northern communities in Canada as a way of supporting local economies. The Wild North supports these communities in northern Canada as they are a key partner for the Iqaluit Community Tukisigiarvik Society in Iqaluit.
The Wild North was founded in 2013 and made its debut at World MasterCard Fashion Week in March, 2015.
For more information on the womens and mens clothing online shopping, please visit The Wild North's social media pages and website:
Instagram: @the_wildnorth
Facebook: /thewildnorthapparel
Webpage: https://thewildnorthapparel.com