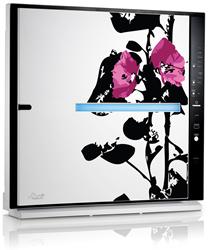 We take great pride in helping our customers be healthier while helping such an important cause as breast cancer research.
Peoria, IL (PRWEB) October 09, 2015
US Air Purifiers LLC, an Illinois based company specializing in residential and commercial air purification systems, is pleased to announce that it will be participating in Rabbit Air's October breast cancer awareness special by offering the Rabbit Minus A2 Breast Cancer Awareness model to its customers. 5% of all revenue from sales of this model are donated by Rabbit Air to fund breast cancer research and treatment.
The Breast Cancer Awareness model offers all of the features that have come to be appreciated in the standard Rabbit Minus A2. The unit is a slim and compact home air purifier capable of effectively removing up to 99.97% of particles above 0.3 microns in size. Same high quality, quiet design as the standard Minus A2 units so these, too, are offered in two convenient models where one is up to 700 sq and the other up to 815 sq ft.. It offers a 6 stage filtration system, and a filter life of up to 1 year when run 24 hours daily. The Rabbit Minus A2 can also be wall mounted to prevent it from taking up valuable floor space, and has been rated as one of the top air purifiers for apartments and small homes.
For the breast cancer awareness promotion, Rabbit Air has created a special limited edition version of the Minus A2, featuring a decorative floral pattern. For each sale of this unit made through USAirPurifiers.com during the month of October, a 5% share will be donated to the Breast Cancer Research Foundation to aid in the development of new treatments for breast cancer. This makes for a donation of almost $24 per unit to one of the best causes it could possibly go to support.
About the Business:
Barb and Dick Lulay's customers are passionate about naturally reducing their risk of disease. Their customer service and product expertise make shopping with http://www.USAirPurifiers.com and http://www.OttersDream.com an ideal experience. With a full line of natural products such as air purifiers, natural supplements, green cleaners, weight management and paraben free skin care, families find they can conveniently do their household shopping online with home delivery. As successful business owners, the Lulays offer a mentoring program for other aspiring entrepreneurs. They present exceptional marketing tools and a training program that shows how to generate immediate income as well as long term passive income.