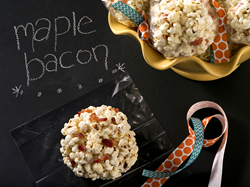 Oklahoma City, Oklahoma (PRWEB) October 08, 2015
The Made in Oklahoma Coalition officials are proud to release this months recipes, which make the fall season even better. October's recipes put a unique spin on some autumn favorites.
These recipes use ingredients from Made in Oklahoma Coalition food manufactures with products produced by Hiland Dairy, Bar-S, Griffin's, Shawnee Mills Flour, and more. October's recipes are:
Sweet and Salty Popcorn Balls
12 cups popped popcorn
4 tablespoons Hiland Salted Butter
1 (10-ounce) bag mini marshmallows
8 slices Fully Cooked Bar-S Bacon, cooked and crumbled
2 tablespoons Griffin's Bacon Flavored Syrup
In a large saucepan over medium heat, combine butter and marshmallows, stirring until completely melted. Stir in Griffin's syrup. Add crumbled bacon. Pour mixture over popcorn, quickly tossing and coating the popcorn.
Cool slightly so it's easy to handle. Form popcorn into 12 balls, pressing tightly to retain shape. Butter your hands frequently while forming popcorn into balls. Place on waxed paper. Once completely cook, individually wrap in plastic wrap. Serve within 48 hours.
Soft Pumpkin Sandwich Cookies
2 cups Shawnee Best All Purpose Flour 1 teaspoon baking powder
1 teaspoon baking soda
1/2 teaspoon salt
1 teaspoon ground cinnamon
1/2 teaspoon ground ginger
1/2 cup (1 stick) Hiland Unsalted Butter, softened 1 cup granulated sugar
1/4 cup brown sugar
2 large eggs, lightly beaten
1 cup canned pumpkin puree
1 teaspoon Griffin's vanilla
Cream Cheese Filling
1/2 cup (1 stick) Hiland Unsalted Butter, softened 8 ounces cream cheese, softened
3 cups powdered sugar
1 teaspoon Griffin's vanilla
In a medium bowl, combine flour, baking powder, baking soda, salt, cinnamon and ginger.
With an electric mixer, beat butter and sugar on low speed until combined. Increase speed to medium and beat for 2 to 3 minutes until creamy. Add eggs, one at a time, beating after each addition. Add pumpkin and vanilla, mixing until smooth.
Add flour mixture on low speed, mixing until just combined.
Drop by heaping tablespoons onto parchment-lined baking sheets. Bake mixture in a preheated 350-degree oven for 10 minutes. Remove to cooling racks. Spread Cream Cheese Filling onto the bottom of a cookie. Press the bottom of another cookie to the filling, creating a sandwich.
To make the filling, beat together butter and cream cheese until smooth and creamy. Gradually add powdered sugar, mixing until incorporated. Add vanilla, and beat until smooth. Once you've filled the cookies, cover and refrigerate any leftover frosting. Tip: Filling can be made a day in advance. Bring to room temperature before filling cookies.
About Made in Oklahoma Coalition
Providing a marketing and promotional platform to assist more than 45 Oklahoma food manufacturers, the Made in Oklahoma Coalition (MIO) builds brand preference and loyalty for members and its products. The MIO Coalition-member companies create a positive economic impact on the Oklahoma economy by employing more than 28,000 Oklahomans. The member-companies of MIO generate over $4.1 billion in annual sales for the state's economy. The MIO Coalition continues to expand the footprint of Oklahoma's food manufacturing sector through business retention and growth. For more information about MIO and its member companies, please visit http://www.miocoalition.com.
Media Contact:
Carter Campbell | 405-286-9635 | carter(at)boilingpointmedia.com