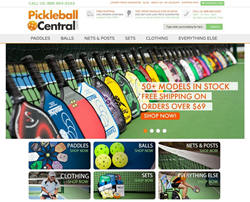 "This deal solidifies us at the number one online retailer of Pickleball equipment worldwide..."
Kent, WA (PRWEB) October 09, 2015
PickleballCentral today announced that it has completed the acquisition of PickleballPaddlesPlus.com in an asset acquisition transaction between the organizations. The terms of the deal are not being disclosed, but the transaction includes the transfer of the PickleballPaddlesPlus.com online retail operations to PickleballCentral effective immediately. Also included in this transaction are several other pickleball related websites, social media properties, and strategic business relationships.
"This deal further solidifies us as the number one online retailer of pickleball equipment worldwide, and we are excited to add the expertise of the Pickleball Paddles Plus team to our organization," said PickleballCentral Co-Founder David Johnson. "Our two organizations have been number one and two in the industry for the past couple years, and combined we can leverage our product knowledge, operational expertise, and industry relationships to benefit pickleball players worldwide."
Under the terms of the deal, customer service, warehouse operations, accounting, and marketing will relocate to the Kent, Washington headquarters of PickleballCentral. Pickleball Paddles Plus founder Kenneth Albert will serve in an advisory role into 2016 and assist with the marketing and operational integration of the companies. Business operations will be uninterrupted by the transaction, and in fact Pickleball Paddles Plus clients will gain access to expanded hours of customer service from the Kent based customer service team.
This transaction reinforces PickleballCentral's leadership role within this fast growing industry. Pickleball Central was recently acknowledged by the Puget Sound Business Journal as one of "Washington State's 100 Fastest-Growing Private Companies", and this transaction demonstrates the company's strategy to expand not only via organic growth, but also via acquisition.
About Pickleball Central:
Pickleball Central operates the world's largest online pickleball equipment retail stores specializing in paddles, nets, and court supplies. Ranked # 1 in customer service for racquet sports retailers, PickleballCentral is a family oriented, privately held company operating in Kent, Washington. The company was founded in 2006 and has served over 100,000 customers worldwide. Pickleball is among the fastest growing sports in North America.