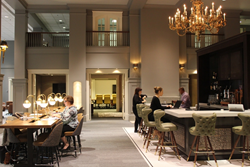 "Coterie Worklounge melds the best features of the workplace and private clubs to create a stylish lounge that performs like an office."
Seattle, WA (PRWEB) October 14, 2015
Coterie Worklounge has opened the doors of its flagship location dedicated to meeting the emerging needs of businesses and professionals. Located in downtown Seattle at 1414 Fourth Avenue, Coterie Worklounge offers a sophisticated, tech-savvy space to host a meeting or event, enjoy cocktails and a meal or utilize a variety of work spaces.
Inspired by their experience as consultants specializing in workplace trends, Coterie Worklounge founders Leah Richmond and Su-Zette Sparks decided to create a space that reflects their vision for the future of work. The Seattle-based entrepreneurs, who hail from an organizational consulting background, secured initial funding for their concept through a Kickstarter campaign.
"Coterie Worklounge represents a distinct shift in the way business gets done," said Leah Richmond. "Increasingly, professionals work in a variety of locations — at home, in a coffee shop or even in a bar. Coterie Worklounge melds the best features of the workplace and private clubs to create a stylish lounge that performs like an office."
Current Coterie Worklounge members include consultants, salespeople, lawyers and entrepreneurs, as well as companies looking for space to hold meetings and events. Coterie Worklounge also expects to serve guests and business travelers staying at the newly renovated and adjacent Motif Seattle, A Destination Hotel, which launched in June 2014.
"We are thrilled to welcome Coterie Worklounge to the neighborhood and we look forward to collaborating on providing stellar experiences for Seattleites and visitors alike," said Max Roth, director of sales and marketing for Destination Hotels. "Coterie Worklounge, much like Motif Seattle, draws upon the area's innovative and entrepreneurial spirit. Together, our offerings will deliver a one-stop-shop for creatives and executives from all over."
Coterie Worklounge membership and special features
Coterie Worklounge offers membership on a monthly ($160) and annual ($1,800) basis that includes unlimited access to a variety of lounge spaces, meeting rooms and flexible work areas as well as comprehensive business services such as mail, high-speed Wi-Fi and printing. Coterie Worklounge offers a daily member rate ($30) for occasional users and business travelers.
Members also receive discounts at Coterie Worklounge's full bar and café. The bar and café are open to the public and offer creative fare from Chef Dominic McDonald, who spent five years as a sous chef at Seattle's Tulio Ristorante. The café's menu reflects the input of food and beverage consultant Bradley Burkett, who has served in senior roles for Wolfgang Puck Worldwide and Kimpton Restaurants. The bar boasts a variety of beverages, wines and spirits from local vendors including Fonté Coffee.
In the near future, Coterie Worklounge will roll out a mobile app that enables members to order food and drinks and reserve meeting rooms and work spaces at the touch of a button. Coterie Worklounge has also partnered with Luxe, an on-demand parking and valet services app, to offer convenient transportation, parking and car maintenance options for its members.
"While the way people work is evolving, we are confident that one thing will never change: business often needs to happen face to face. Coterie Worklounge provides a way for professionals to come together and connect, work and socialize exactly when, how and where they want to," said Su-Zette Sparks.
Coterie Worklounge is offering a Preview Week Special from October 14 – 23, when visitors can receive a free day pass to experience the space. Visitors can also enter a daily drawing to win a free month of membership.
B+H Architects designed the Coterie Worklounge space and My-Way Construction served as the construction manager and general contractor. Motif Seattle is the property manager of the Coterie Worklounge space.
About Coterie Worklounge
Coterie Worklounge is a stylish lounge that performs like an office. Located in the heart of downtown Seattle, Coterie Worklounge offers a sophisticated space to get business done — from hosting a meeting to closing a deal over cocktails in the bar and café.
Coterie Worklounge offers its members the benefits of a private club as well as access to flexible work and meeting spaces with premium business services. For more information, visit http://www.coterieworklounge.com. Coterie Worklounge is independently owned by Coterie Worklounge, LLC.
About Motif Seattle, A Destination Hotel
Motif Seattle, A Destination Hotel, is an upscale independently branded hotel inspired by the area's rich fashion, arts and music scenes. Located in the heart of downtown Seattle on Fifth Avenue between Pike and Union streets, Motif Seattle offers 319 guestrooms and 10 suites with sweeping views of downtown, the waterfront and the Olympic Mountains. In the center of the city's energy and culture, Motif Seattle is surrounded by the city's finest restaurants, shopping, entertainment venues, museums and attractions. Featuring guest rooms and suites infused by Seattle's unique culture, the urban contemporary Frolik Kitchen + Cocktails — featuring the largest outdoor deck in downtown Seattle — and pillow top mattresses, Motif Seattle can be found online at http://www.motifseattle.com, Facebook and Twitter. Reservations available online or by phone at 1-855-515-1144.