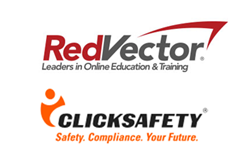 We're proud to provide our customers quality training that helps them achieve the safety level required for work in industries like construction
Tampa, FL (PRWEB) October 09, 2015
RedVector, the leader in eLearning and workforce training solutions for the architecture, engineering, construction, industrial and facility management industries, has expanded its OSHA Outreach Online Training Program with OSHA 30-hour Construction and OSHA 10-hour General Industry courses.
In conjunction with OSHA-authorized partner ClickSafety, RedVector will offer these two critical online safety courses to help workers and employers recognize, avoid, abate and prevent health and safety hazards in workplaces. Upon completion of the courses, professionals will receive a valid U.S. Department of Labor OSHA 10 or 30 Card.
"Any step we can take to ensure workers return home safely at the end of every day is a step we're going to take," said RedVector Product Director Bobby Person. "We're proud to provide our customers quality training that helps them achieve the safety level required for work in industries like construction, manufacturing and others."
"With this partnership and our combined industry leadership, workers will have unprecedented access to OSHA and other related industry safety courses, resulting in increased responsibility for safety and compliance," said Doug Kaplan, General Manager of ClickSafety.
OSHA 30 Construction Course
Users:
Construction Workers
Construction Foremen
Construction Job Supervisors
All Personnel Responsible for Construction-related Projects
Topics:
Introduction to OSHA
Contractor's Safety and Health Program
Reporting and Record Keeping
Electrical Hazards
Fall Protection
Materials Handling
Cranes and Rigging
Motorized Mobile Platforms
The Competent Person
Excavations
Work Zone Traffic Control
Forklift Hazards
OSHA 10 General Industry Course
Users:
General Workers, Warehousing and Manufacturing Employees
Foremen and Job Supervisors
Inspectors involved in General Industry activities
Topics:
Orientation
Introduction to OSHA
Walking and Working Surfaces
Exit Routes
Emergency Action Plans
Fire Prevention Plans
Electrical Safety
Personal Protective Equipment (PPE)
Hazard Communication
Hazardous Materials
Materials Handling
Machine Guarding
Safety and Health Programs
Ergonomics
Leading Cultural Change
RedVector will offer the OSHA 30-hour Construction Course and OSHA 10-hour General Industry Course in addition to its popular OSHA 10-hour Construction Course.
About ClickSafety
ClickSafety is one of the most trusted names in online safety and compliance training, helping students learn the essential skills needed to perform work safely. ClickSafety courses provide self-paced training that is interactive, consistent and measurable for the construction, general industry and environmental markets.
About RedVector
RedVector sets the standard for excellence in online continuing education and training for the architecture, engineering, construction (AEC), industrial and facility management industries and holds nearly 100 state and national accreditations. RedVector offers individual courses as well as large-scale corporate training solutions featuring customizable and easily accessible online universities with a full range of tracking and reporting features. With an online library exceeding 2,250 courses authored by more than 100 subject matter experts, RedVector serves professionals and organizations in all 50 states. The recipient of numerous community honors and industry awards, RedVector was founded in 1999 and is headquartered in Tampa, Florida. For more information, call 1-866-546-1212 or visit http://www.RedVector.com.