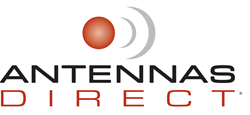 St. Louis, Missouri (PRWEB) October 09, 2015
Antennas Direct, a leader in TV antennas and over-the-air technology, announced that their ClearStream 2V antenna will join the lineup of Antennas Direct antennas available at Lowe's starting in October.
"Lowe's is a place for the do-it-yourself kind of people, and that includes the way they want to watch TV," says Richard Schneider, president and founder of Antennas Direct. "With a simple antenna installation as part of a remodel, they can liberate themselves from the cable company."
The C2V antenna with mount is available in all Lowe's locations across the United States for $99. It offers the power and efficiency normally found in antennas up to 10 times the size of the C2V. The advanced technology behind the ClearStream Tapered Loop allows the C2V to be smaller and more powerful across today's DTV spectrum. The C2V has a 50+ mile range and can be used indoor or outdoor.
About Antennas Direct
Antennas Direct is the leader in antenna technology, reinventing the antenna for the digital era. With a heritage in over-the-air antennas specifically tuned for core DTV frequencies, Antennas Direct has invested major resources into the discovery and implementation of new antenna designs for digital reception. Founded in 2003, the firm is a member of the Inc. 500|5000 Hall of Fame and Future of TV Coalition. Visit antennasdirect.com for more information.