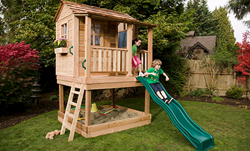 "Our customers can see at a glance that the products we make are natural products made from materials that are 100% sourced from certified, sustainably managed forests," Greg Bailey
Maple Ridge, British Columbia (PRWEB) October 10, 2015
Outdoor Living Today (OLT) is proud to celebrate the 5 year anniversary of certification from the PEFC (the Programme for the Endorsement of Forest Certification). The PEFC promotes Sustainable Forest Management. It is the world's largest forest certification organization.
"With PEFC certification since 2010, our customers can see at a glance that the products we make are natural products made from materials that are 100% sourced from certified, sustainably managed forests," says Outdoor Living Today owner-operator Greg Bailey.
The demand for sustainably-procured wood is rapidly expanding because more businesses and consumers are engaged on issues like climate change and sustainable development. Consumers increasingly demand certified products and are looking for labels that clearly identify this certification.
OLT produces a wide range of cedar backyard kits, such as sheds, gazebos, pergolas, and playhouses. All of the cedar wood is harvested from independently certified and managed forests in British Columbia Canada. In this way, the company supports regional forestry and reduces environmentally damaging transports at the same time.
OLT's remanufacturing and production facility is located in Penticton, British Columbia. The cedar used in production comes from sustainable sources, which also means that the amount of cedar harvested does not exceed the regeneration rate of the forest.
The PEFC certification takes into account not only ecological but also economic and social criteria. In other words, the entire value chain is evaluated, from the forest to the finished product.
"For the certification of our mill in Penticton, independent experts inspected the company's wood-flow accounting system to ensure compliance with the PEFC's International Chain of Custody Standard," says Bailey.
The PEFC label means buyers of Outdoor Living Today can be assured that not only are OLT's cedar backyard kits of high quality but that they are certified, traceable and support responsible forest management.
"With labels being the most trusted source of information by consumers about whether a product is environmentally and socially responsible, the PEFC label demonstrates to consumers that a company is addressing their expectations," notes Ben Gunneberg, Secretary General of PEFC International.
All Outdoor Living Today structures are made of Western Red Cedar, widely known for its attractiveness and durability - as it is naturally rot, decay, and pest-resistant. Wood is one of the most renewable building materials, and OLT has a dedicated commitment to good environmental, social and sustainable practices. This is reflected throughout the entire production process. Great care is taken to ensure that every possible piece of the log is used, and a minimum of waste is created.
"Typically, an efficient lumber mill extracts approximately 50% of the log into saleable lumber. The other 50% ends up as wood chips and sawdust. Because OLT utilizes so many smaller pieces of lumber for our 50 backyard kits that would otherwise be chipped and turned into waste, we extract an additional 20% from each log.
What does this really mean to you? A typical log will yield a maximum of around 1600 fbm of lumber if there is no waist,etc. The other half ends up as chips and waste, so that would be 800 fbm from each log. OLT would end up yielding around 1100 fbm from that same log. A typical house uses about 16,000 fbm of lumber in the US and Canada. That is equivalent to abut 20 logs. Of OLT only built houses, we would only use about 15 logs for that same house.
As you can see from the math, extracting more from each log potentially means less trees are used. Reducing your environmental footprint by 20% is massive and one we believe our customers really value," notes Greg Bailey.
Known for manufacturing all of the wood it harvests in its own mills, Outdoor Living Today produces a wide-range of cedar backyard kits from cedar that grows in the B.C. coastal region. An owner-run company that has been operating since 2004, OLT and The Waldun Group employ more than 150 British Columbians from the Okanagan and lower mainland areas."