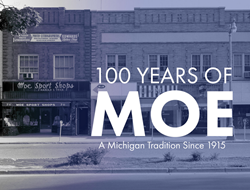 "I would cut lawns, shovel snow and rakeleaves so that I could go to Moe's Sport Shop to get...something with the block M on it," said Wolverines' Head Coach Jim Harbaugh in his 2014 introductory Press Conference.
ANN ARBOR, MICHIGAN (PRWEB) October 09, 2015
This fall Ann Arbor based Moe Sport Shops celebrates 100 years outfitting University of Michigan faithful. Located at its original location, 711 N. University, the shop remains a beloved tradition in the University of Michigan community and holds a special place in the hearts of alumni around the world. "I would cut lawns, shovel snow and rake leaves so that I could go to Moe's Sport Shop to get...something with the block M on it," said Wolverines' Head Coach Jim Harbaugh in his 2014 introductory Press Conference.
Founded in 1915 by George J. Moe as a local sporting goods store, Moe Sport Shops has transitioned to its 4th generation of ownership and has been a reassuring link to the past. "It's truly amazing on a college campus where students and stores are constantly changing to see something original stand the test of time" says co-owner Ryan Gregg. "Moe Sport Shops resides in the same location, with the same look and feel as when it opened in 1915. Any Michigan Alum who comes back to Ann Arbor can count on one thing that hasn't changed - and that's Moe's!" The little shop boasts a rich history, including a leading role in major sports history events.
In 1934, a salesman from Champion Sportswear (then Champion Knitwear) walked into the Moe Sport Shop and struck up a conversation with proprietor, George J. Moe. At the time, the only way to get a T-shirt that said "Michigan" on it was to steal one from the Athletic Department. After chatting awhile about Ann Arbor and the sports-passionate community, the two businessmen teamed up to make the very first University of Michigan branded shirts. The apparel was welcomed by the UofM community and met with high demand. Upon seeing the success of the Michigan gear, Champion went to the other Big 10 schools with the same proposal and the collegiate-branded apparel industry was born.
Moe's impact is felt by sports fans around the world. Early football officials wore white dress shirts, bow-ties and formal caps to give an air of gentlemanly authority; however, when an Arizona quarterback confused official Lloyd Olds for a player and mistakenly passed him the ball, he asked friend George Moe to make a distinctive shirt to set him apart from players on the field. The shirt that Moe designed, a black and white striped shirt, was effective but hated by fans, as Olds was met with boos from the crowd at its first appearance in 1921.
Like many heritage businesses, Moe Sport Shops was at risk of slipping into obscurity as more and more consumers turned to the Internet for their apparel needs. However, UofM Alums Ryan Gregg and Rishi Narayan have worked to keep Moe's growing and innovating; launching an online store, expanding the social media footprint, and implementing store restoration initiatives.
"Ryan and I feel a responsibility to continue the legacy and tradition of Moe Sport Shops into its second century" says current co-owner Rishi Narayan. "Bud Van De Wege Jr. has entrusted us with this institution and we will work to make our little shop a source of pride for the Ann Arbor community for decades to come."
Centennial celebrations are planned for UM Homecoming and the weeks to follow, featuring giveaways, contests and events. Get more interesting stories, a historical timeline, old photos and much more at http://www.100Years.Moe. For interviews, contact Rishi Narayan at marketing(at)undergroundshirts.com or 1-800-242-4787.