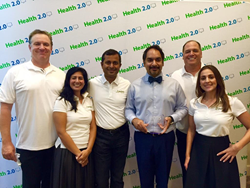 Santa Clara, CA (PRWEB) October 08, 2015
Medicine and technology merged onstage as 2015 Health 2.0 Launch! finalist MedWand Digital Health debuted its unique telemedicine technology for the first time, wowed an audience of thousands, and took home the coveted Health 2.0 Launch! award.
MedWand inventor and company founder, Dr. Samir Qamar, demonstrated the effectiveness of the medical device by performing a physical exam on a patient hundreds of miles away. In real-time from Santa Clara, California, Dr. Qamar examined his patient in a hotel room in Las Vegas, Nevada. In under two minutes, alongside seamless Internet video and audio connectivity, Dr. Qamar used the patient's MedWand to examine her throat, eyes, skin, and nasal passages, while simultaneously collecting her heart rate, oxygen levels, and temperature in front of a captive audience.
Competing with nine other health technology startup finalists, the audience voted for the winner, and selected MedWand. Previous Health 2.0 Launch! event winners include prestigious companies like Castlight Health and Practice Fusion. Twitter feeds for MedWand were streaming at record levels for the emerging tech startup.
Dr. Qamar, licensed to practice medicine in both states and who created the MedWand to add physical exams to the trend of video-based telemedicine, was thrilled. "Today we not only advanced telemedicine by leaps and bounds, but the entire practice of medicine. A doctor sitting thousands of miles away can now examine a patient online with a compact, handheld medical device. I couldn't have done it without my hard-working team of brilliant engineers."
MedWand engineer Robert Rose, also the startup's CEO and CTO, commented, "This was one of the most important, exciting, and gratifying things I have ever done. We made history today, and people noticed."
MedWand's first investor and senior advisor, Praveen Mooganur, was very optimistic about the startup's future. "Winning at Health 2.0 with a live demonstration of our device was extremely important. Our technology not only works, but works flawlessly. MedWand's time has come, and we are already getting calls from around the world."
Company officials say they are headed to Europe in a few weeks after being invited to demonstrate MedWand at the World Extreme Medicine Expo in London. Available in 2016, MedWand is accepting pre-orders on its website at this time.
About MedWand Digital Health –
United States-based MedWand Solutions, Inc. creates MedWand telemedicine technology, allowing telemedicine providers to perform remote physical examinations in real-time. With offices in Nevada and California, MedWand's mission is to add medical data collection to telemedicine via innovative technology. Designed to be used by patients and doctors together, the MedWand device is portable, and combines a digital stethoscope, high-definition video camera for looking at skin and inside passages, thermometer, pulse oximetry, heart rate monitor, EKG, and Bluetooth for peripheral device data. MedWand DOCs (Digital Onsite Clinics) combine MedWand devices with computers and tablets to create cost-effective virtual clinic capabilities for access to care via Internet or satellite links. For more information, visit MedWand.com or follow on Twitter @MedWand.