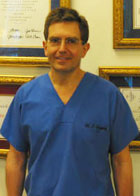 Bethlehem, PA (PRWEB) October 28, 2015
Individuals with missing teeth now have a natural-looking tooth replacement option available, through Dr. Joseph Gaspari. Dr. Gaspari now invites those with one or several missing teeth to receive dental implants in Bethlehem, PA, by scheduling an appointment with his practice; no referral is required. Implants are a preferred option for missing teeth because they are durable, resemble natural teeth and maintain a permanent structure as they integrate with the jawbone.
Dr. Gaspari has offered dental implants in Bethlehem, PA as a treatment option for patients with missing teeth for years. Individuals of all ages, who suffer from tooth loss due to a variety of causes and factors, may be suitable candidates for this option. In some cases, people are born with genetic predispositions to certain diseases and conditions that may cause the teeth to loosen or fall out. In other cases, people can lose teeth due to advanced stages of gum disease or from misfortunate accidents. Some of the available tooth replacement options prove to be less ideal because they require patients to sacrifice the health of surrounding teeth, therefore not creating a viable long-term solution. Implants, however, are intended to last for the longevity of a patient's life with adequate care, while also providing superior reliability and the aesthetic appearance of natural teeth.
Implants are placed in the mouth during a surgical process that involves uncovering the jawbone and drilling a hole for a titanium post. Once the post is inserted into the bone, a few months of appropriate recovery time is essential, to allow a step in the process called osseointegration, which allows the fusing of the implants to the jawbone. One this process is complete, the post is surgically uncovered once again and a crown is placed atop. The crown simulates natural aesthetics and is designed to resemble the color of the adjacent teeth. Once the area is given time to heal once again, the end result proves to be a sturdy tooth that cannot be distinguished from surrounding natural teeth.
Patients who would like to receive dental implants in Bethlehem, PA, as a long-term tooth replacement option, are welcome to call Dr. Gaspari's practice to set up a consultation.
About The Practice
Gaspari Family Dental Care is a general and periodontal practice offering personalized care for patients in Bethlehem, PA. Dr. Joseph Gaspari and his team are dedicated to providing comprehensive dental care through the use of innovative and modern techniques. They other services such as laser gum surgery, Chao Pinhole® Surgical Technique, sedation dentistry and dental implants. Dr. Gaspari is a Fellow with the International Congress of Oral Implantology and with the Misch International Implant Institute. He is also a member of the American Academy of Periodontology and the American Society for the Advancement of Aesthetics in Dentistry. To learn more about the services offered at Gaspari Family Dental Care, please visit their website, http://www.drgaspari.com or call (484) 552-2081 to schedule an appointment.