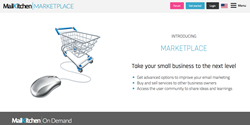 'MailKitchen is a delight to use, much simpler than competitive offerings.' - Delphine Boquet, Château La Tour de By
San Francisco, CA (PRWEB) October 20, 2015
MailKitchen, Inc. today announced the US availability of the MailKitchen I Marketplace – the first marketplace of its kind specifically dedicated to small business customer acquisition. The MailKitchen I Marketplace consists of both first and third party digital marketing products and services that help SMBs acquire and retain customers.
The MailKitchen I Marketplace includes a full-featured, free email marketing campaign solution for locally oriented small business owners. Whereas other email marketing services charge on higher tiers of contacts and email volumes, MailKitchen is free at any level of email volume. For users who have specialized needs, the Marketplace includes a first party add-on product called MailKitchen I On Demand.
MailKitchen I On Demand enables small businesses to maximize their marketing dollars invested by selecting individual advanced features—on an a la carte basis—that can be turned on or off at any time. The result is a dizzying array of customization options to maximize ROI. Customizable add-on features include:

Ad-free MailKitchen Email
Enhanced Template Package
Customer Segmentation
Advanced Conversion Metrics
Advanced Data Import/Export
"In speaking with locally-based small business owners, it quickly became clear that their greatest pain points were around the ever-increasing costs of acquiring new customers, " commented Brogan, CEO of MailKitchen. "We set out to leverage technology to reduce customer acquisition costs and simplify the execution of all types of digital marketing campaigns."
While the initial launch includes first-party offerings only (e.g. MailKitchen I On Demand) and previews the Email2Click third-party offering, the company is planning on adding a half-dozen additional marketplace services over the next six months. Planned marketplace offerings include: email consulting services for those SMBs who would rather have a consultant build and manage their campaigns; BIG, a database management product that allows SMBs to leverage their email contacts to create new revenue sources; and FastBill, a SaaS-based billing offering that enables any small business to create an online credit card billing system in a matter of minutes.
"We're excited about the opportunity to pool resources from local business communities around the US and world," commented Brogan Keane. "While only the tip of the iceberg, we're already receiving enthusiastic feedback from the MailKitchen community on our new Marketplace concept."
For more information, visit mailkitchen.com and follow us on Twitter @mailkitchen_en.
About MailKitchen, Inc.
MailKitchen is a small business marketplace for local customer acquisition. Headquartered in San Francisco, California and Lyon, France, MailKitchen offers a fully functioning, robust email campaign product for small businesses free of charge—at any volume level.
MailKitchen and MailKitchen I Marketplace are available at mailkitchen.com. The service is available globally in six languages including: English, French, Spanish, Portuguese, Italian and German.