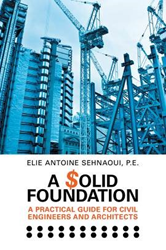 "This informative book on engineering passes on to new generations the knowledge garnered from a distinguished engineering career." - Robert Fletcher, CEO of Strategic Book Publishing and Rights Agency
(PRWEB) October 12, 2015
"This informative book on engineering passes on to new generations the knowledge garnered from a distinguished engineering career. We are most pleased to announce its release," said Robert Fletcher, CEO of Strategic Book Publishing and Rights Agency.
Loughborough University and MIT-trained engineer Elie Antoine Sehnaoui, P.E., wrote this book about specific projects around the world on which he was a contractor, or sometimes a consultant. He provides invaluable guidance to young engineers on what he learned during the execution of each project. The learning he shares comes not from textbooks, but from experience working in the field, the best teacher of all.
His enriching new book "A $olid Foundation: A Practical Guide for Civil Engineers and Architects" acts as "a useful primer for young engineers and architects as they prepare to launch their professional careers. He distills his long business experience working in Africa, the Middle East, and Europe into a series of short chapters on contracts, public relations, project financing, real estate development, and engineering law," said Professor Philip S. Khoury, associate provost at the Massachusetts Institute of Technology.
Another area in which the veteran engineer excels is in learning the local culture, language, and customs of the area is which he worked. These things matter, because despite the globalization of the English language, Professor Khoury stated, "The engineers and architects most likely to succeed will be those who bother to familiarize themselves with the language and customs of the country or region in which they work."
Professor Khoury added, "Civil engineers and designers can do no better than to carry this valuable field guide with them as they move from country to country and project to project."
A $OLID FOUNDATION: A PRACTICAL GUIDE FOR CIVIL ENGINEERS AND ARCHITECTS (ISBN: 978-1-68181-104-8) is now available for $33.50 and can be ordered through the publisher's website:
http://sbprabooks.com/ElieAntoineSehnaoui or at Amazon.com or Barnesandnoble.com.
WHOLESALERS: This book is distributed by Ingram Books and other wholesale distributors. Contact your representative with the ISBN for purchase. Wholesale purchase for retailers, universities, libraries, and other organizations is also available through the publisher; please email bookorder(at)sbpra(dot)net
About the Author: Elie Antoine Sehnaoui, P.E., was educated in Lebanon, England, the United States, and France. He is a well established engineer with broad experience in consulting and construction, and has worked on several continents on a variety of projects in the public and private sectors. The author is presently an international technical and management consultant, with a principal residence in Beirut where he lives. After a long and happy life with his American-born wife, Caroline Rogers Neill, he is a widower with three grown and married children, who live in the United States, Switzerland, and China.