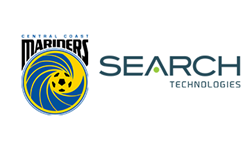 Having recently expanded into the Asia-Pac region, we look forward to the additional market exposure that this partnership with the Mariners will provide - Kamran Khan, CEO, Search Technologies
Herndon, VA (PRWEB) October 09, 2015
Search Technologies, the leading IT services firm specializing in the design and implementation of enterprise search and big data analytics applications has recently signed on to be a corporate sponsor of the Australian-based Central Coast Mariners. Search Technologies will sponsor their Hyundai A-League 2015/2016 season during which players will adorn the company logo on their uniforms.
In addition to the corporate sponsorship, Search Technologies has engaged with the football club to provide data analytics consulting services to help the Mariner's achieve their goal of being the most innovative sports club in Australia.
"We are very pleased to be on board as a corporate sponsor and big data partner for the Central Coast Mariners. The Mariners have recently shown that they are innovative and exciting not only on the pitch but in their use of analytics in the sports industry" says Kamran Khan, Search Technologies President and CEO. "Having recently expanded into the Asia-Pac region, we look forward to the additional market exposure that this partnership with the Mariners will provide," Khan added.
The Mariner's will first adorn their Search Technologies branded uniforms when they take on Perth Glory on Saturday, October 10 at Central Coast Stadium. For more information about the Central Coast Mariners visit ccmariners.com.au.
About Search Technologies
Search Technologies is the leading trusted and independent technology services firm specializing in the design, implementation, and management of enterprise search and big data analytics applications. We have delivered results for over 600 customers across all commercial and government sectors. Our experienced consultants and unique technical assets help us deliver customized search and analytics applications that are easier to use, less expensive, more powerful, and most of all, more reliable.