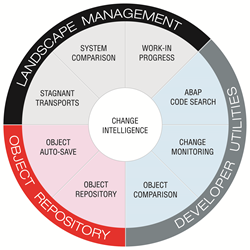 Salt 3.0 offers additional installation options to the default RSC Core VM deployment, including Linux-based operating systems and a hosted cloud service.
LAS VEGAS, Nev. (PRWEB) October 20, 2015
Revelation Software Concepts(RSC), a pioneer and market leader in simplifying change control, today announced immediate availability of Salt 3.0. An industry-leading software change intelligence tool for SAP® software environments, the new version offers additional installation options to the default RSC Core VM deployment, including Linux-based operating systems and a hosted cloud service. If an organization does not have an existing private cloud, but requires a hosted option, RSC will make available a managed service to host Salt for the organization.
"The re-architected Salt 3.0 allows for more options for deployment, expanding the number of organizations that can gain Salt's enhanced system visibility and process transparency," said David Drake, chief executive officer and founder of RSC. "Salt improves system stability and enhances risk management, benefits that are high on the list of today's CIO agenda."
A 2015 survey commissioned by the Linux Foundation found that 75% of large enterprises report using Linux to drive their primary cloud platform, while Linux application deployments on enterprise servers have risen during the past four years from 65% to 79%. This re-architected version of the Salt platform reflects this growing market reality.
"Cloud decisions have often been carefully vetted and approved within a company," said Rick Porter, vice president, Business Development at RSC. "Salt 3.0 allows each customer to deploy Salt on the cloud or local server infrastructure that's been selected. The increased flexibility and updated, more scalable components will be appreciated by both new and existing RSC customers."
The Salt suite of eight change intelligence applications helps reduce risk by providing essential fact-based information on current systems to authorized managers, developers and other stakeholders. Its real-time intelligence enables decisions based on fact, not guesswork, and helps save time in multiple areas on a continuing, day-to-day basis. Salt delivers real-time intelligence on system state and custom code in ABAP® programming language in three focus areas: Developer Utilities, Landscape Management and Object/Code Repositories.
Used together, these visibility tools give customers the means to analyze systems, notify stakeholders of changes to objects or systems, keep custom ABAP code safe and accessible, find ABAP code anywhere on a system, and reveal changes or inconsistencies between objects and systems.
The new architecture of Salt 3.0 is more robust, with several updated core components and scalability performance enhancements that offer support particularly for teams who maintain very large or multifaceted SAP software–powered IT landscapes. Salt version 3.0 also enhances system security via an optional SSL-only mode and accommodates all the latest OS patches.
While Salt version 2.0 is SAP-certified for integration with applications running on the SAP HANA® platform, the new Salt version 3.0 is not yet certified by SAP.
The RSC Core VM remains the default Salt deployment option and runs on any VMware or Microsoft Hyper-V virtual platform running on physical hardware. For more information on Salt's suite of change intelligence applications, including details and brief demo videos for each of the available Salt apps, visit http://www.xrsc.com/salt/.
The announcement was made at the SAP TechEd® conference being held in Las Vegas, Oct. 19-23, where RSC is exhibiting at booth #154.
About Revelation Software Concepts
Revelation Software Concepts (RSC) specializes in simplifying change control for SAP solutions, developing market-leading technology to reduce the risks and lower the costs of delivering changes into information systems. Since RSC was founded in 1997, some of the world's largest companies have come to rely upon its mature change-control solutions. Its deep expertise and responsive support have made RSC a leading change-control specialist for SAP solution–based infrastructures around the globe. RSC is 100% SAP solution-focused. Its products simplify change control for both ABAP and non-ABAP programming language–based technologies, reflecting RSC's commitment to technologically innovative change-control solutions that serve current market needs. For more information, visit http://www.xrsc.com and at SAP TechEd booth #154.
# # #
Note to Editors—RSC and Salt are trademarks or registered trademarks of Revelation Software Concepts Pty Ltd. SAP, ABAP, TechEd, SAP HANA and other SAP products and services mentioned herein as well as their respective logos are trademarks or registered trademarks of SAP SE (or an SAP affiliate company) in Germany and other countries. See http://www.sap.com/corporate-en/legal/copyright/index.epx for additional trademark information and notices.