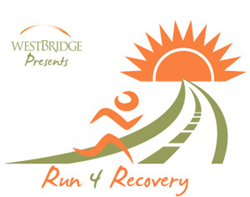 TAMPA, Florida (PRWEB) October 09, 2015
A variety of race options will be available for the Run 4 Recovery sponsored by WestBridge Center for Integrated Treatment of Co-occurring Disorders on Sunday, October 18, at Al Lopez Park, 4810 North Himes Avenue, in Tampa. The family friendly event will start with opening remarks at 7:45 a.m. and will include the choice of a 5K run or walk and a one-mile walk, followed by an award ceremony at 10 a.m. As part of a year-long marathon-themed campaign launched by WestBridge, the fund-raising event is intended to call attention to the need for long-time commitment to recovery from co-occurring mental health and substance use disorders. Much like running a winning marathon, successful recovery from a dual diagnosis requires preparation, training, coaching, support and follow-up, according to the professional treatment team at WestBridge, with locations in Brooksville, Florida, and Manchester, New Hampshire.
Run 4 Recovery will take place on a completely paved course that passes by scenic lakes in the park. The event is dog friendly for on-leash dogs only, and parents may run or walk with a stroller. In addition to the races, Run 4 Recovery will include activities for children in the park playground and a best-dressed dog costume contest by the dog park. The 5K run will be professionally chip-timed, with gift cards and medals being awarded to the top three overall male and female winners. Medals will be awarded to the top three male and female winners in eight age categories. Each participant will receive a Run 4 Recovery t-shirt. Water stations will be available along the course, and light refreshments will be provided at the conclusion. Packet pick-up with race supplies for those who have registered in advance will be held from 4 to 8 p.m. Friday, October 16, at Fit2Run, International Plaza, 2223 North West Shore Boulevard in Tampa. Cost for the race is $35 for standard registration and $20 for children ages 3 to 12. The overall race goal is $50,000 to support WestBridge, a nonprofit organization committed to helping individuals with co-occurring disorders and their families. The registration website can be found here. Deadline for registration is 11:59 p.m. Friday, October 16.
Money raised at the Race 4 Recovery will help support WestBridge's Recovery Opportunity Fund, which provides extended care to families who are receiving extended recovery services. WestBridge's motto, "Recovery Is A Marathon, Not A Sprint," reflects its treatment philosophy of ongoing support.
Additional information can be obtained by contacting the race director at [email protected]
About WestBridge: WestBridge Center for Integrated Treatment of Co-Occurring Disorders, with headquarters in Manchester, New Hampshire, and a facility Brooksville, Florida, provides residential and community-based treatment for men with a dual diagnosis of mental health and substance use disorders. Each center provides ongoing assistance for participants and their family members using evidence-based practices and a variety of interventions and activities. Each participant receives individual, group and family counseling with an interdisciplinary team throughout treatment and after-care. WestBridge staff members are available 24 hours a day, seven days a week. An average residential stay at WestBridge is three to six months. Residential care is followed by extensive outpatient services to help participants with educational and employment opportunities, health and wellness, symptom management, housing, budgeting, and connections to supportive resources in the community.