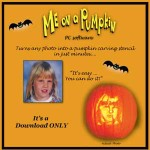 "This fun to use software, now made accessible on the web is the first in a new generation of offerings from Carving Technologies."
Lenexa, KS (PRWEB) October 11, 2015
Carving Technologies, LLC announces the introduction of their premier software "Me On A Pumpkin" used for creating pumpkin carving stencils as an online service. First introduced in 1998, "Me On A Pumpkin" was the first software of its kind in the world. This new online product allows users to create pumpkin carving stencils quickly and easily using any smart device or any web-browser, including cell phones, tablets, and computers using Apple OS or iOS, Windows OS, or Android OS.
Log on at https://www.meonapumpkin.com, upload a favorite image of children, friends, pets, a car, building, logo, TV or movie character, follow the simple instructions to create the perfect pumpkin carving stencil and then receive that stencil immediately in .pdf format for only 99 cents. Tips, tricks, and tool recommendations to create the best carved pumpkin ever, are included with each purchase. Just print it out and enjoy the best pumpkins on the block this year!
Additional information and digital imaging software products are available at carvingtechnologies.com.