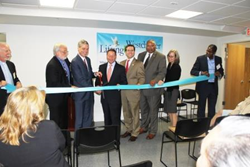 Westchester County, New York (PRWEB) October 08, 2015
In a special ceremony proclaiming today as the first-ever Westchester County Homeless Awareness Day, Lifting Up Westchester revealed the completely renovated Open Arms Men's Shelter. Westchester County Executive Rob Astorino made the special proclamation while Mayor Tom Roach of White Plains, as well as other legislators from across Westchester County aided in the ribbon-cutting, marking one of the most important milestones in the shelter's history.
The event heralded the purchase and renovation of the building at 86 E. Post Road in White Plains that had housed the shelter for a quarter of a century. The renovated and expanded facility will pave the way to a major change in the way homeless services are provided in Westchester County. Open Arms Men's Shelter is the hub of all homeless services in White Plains and is the city's only transitional and emergency drop-in shelter for single, homeless men. It is also the only shelter in White Plains that provides outreach services to the chronically and street homeless.
Culminating years of work and the fulfillment of many dreams, the renovation project has pumped $3.4 million into the local economy. Renovations have expanded Open Arms from 12,600 square feet to 16,100 square feet through the addition of a third floor. Improvements include the installation of a fully equipped industrial kitchen and an elevator making the facility fully handicap accessible. With these changes and an upgrade of all mechanical systems, Lifting Up Westchester is ready to meet the needs of our homeless neighbors in the 21st century.
The updated facility will have the capacity to shelter 52 individuals in 38 transitional housing units and 14 emergency housing units. It will target homeless, single men, including the chronically homeless and individuals struggling with alcohol and chemical dependency or mental illness.
"We couldn't be more pleased with the 'new' building," explained Paul Anderson-Winchell, executive director of Lifting Up Westchester. "Equally gratifying is knowing that the leaders of this County are supportive and committed to our agency's efforts to restore hope and dignity to our neighbors in need, one person at a time."
In a significant departure from the shelter's original design which contained two large dormitories, the new building will have 12 single rooms, 5 double rooms, 1 triple room, 1 quintuple room, 1 octuple room and only one dormitory space. The goal is to gradually move clients from congregate living areas into more independent rooms in an effort to make their eventual transition to their own apartments more successful.
A modern, industrial kitchen will replace a small, poorly designed kitchen with an inadequate warming oven. Food Service staff will now be able to prepare meals onsite, reducing their reliance on expensive prepared food, and improving both the nutrition and quality of the food offered to our guests. It will also enable the shelter to more effectively accept donations of bulk or perishable food from the Food Bank for Westchester and other local community groups.
Primary funding for the project came from a $5.7 million grant from the NYS Office of Temporary and Disability Assistance (OTDA) Homeless Housing & Assistance Program. Additional financing was received from the Leviticus Fund, a social lender, as well as a Federal Home Loan Bank of NY's Affordable Housing Program (AHP) grant, in the form of a $133,000 loan and $507,000 grant respectively. Lifting Up Westchester also received vital support from Sheltering the Homeless is Our Responsibility (SHORE).
During the renovation, temporary housing for shelter residents was provided at a renovated storefront located at 234 Martin Luther King Blvd. Grace Episcopal Church provided overnight shelter for overflow clients Sunday to Friday and, on Saturdays, a loyal group of religious organizations took turns housing and feeding these residents.
This is the first of many changes that will be made to our homeless services. Another will be a new focus on getting residents into homes of their own quickly. "The rationale is that finding housing is the greatest emotional burden faced by homeless individuals; once they are secure in a place of their own they are better able to deal with the issues of addiction, unemployment or mental illness that contributed to them being homeless in the first place," explained Charlie Bevier, director of Lifting Up Westchester's shelter and homeless outreach services.
Renovations are expected to result in significant annual savings due to reduced rent and operating costs. Lifting Up Westchester will be working with the County to reinvest these savings into other supportive and rehousing services.
About Lifting Up Westchester
Lifting Up Westchester (http://www.liftingupwestchester.org) is a 501 (c )(3) organization whose mission is to restore hope to Westchester County's men, women and children in need by providing them with food, shelter and support- lifting them to greater self-sufficiency with dignity and respect. It is one of the largest social services agencies in Westchester County and has been fulfilling its mission since 1979 through the operation of eight community-based programs. The agency serves 4,000 men, women and children each year providing 140,000 meals to the hungry and 28,000 nights of shelter to the homeless.