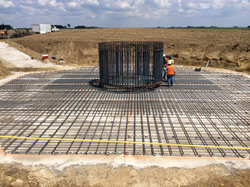 We're delighted to partner with BHE Renewables and contribute to the state's steadily growing wind resources.
Minneapolis, MN (PRWEB) October 08, 2015
Mortenson Construction, a leading renewable energy contractor, has begun construction on the Grande Prairie Wind Project located in Holt County, Nebraska. Owned by BHE Renewables, a subsidiary of Berkshire Hathaway Energy, the 400-megawatt project will be the largest wind energy project in the state's history.
Mortenson's scope of work will include the erection of 200 Vestas V110 turbines and the engineering, procurement and construction of foundations, access roads, underground collection systems, two substations and a transmission line. The construction of roads and foundations is currently underway and erection of turbines will begin in May of 2016.
"We're delighted to partner with BHE Renewables and contribute to the state's steadily growing wind resources while bringing substantial economic benefit to the region," said Tim Maag, vice president and general manager of Mortenson Construction's Wind Energy Group. "In addition to approximately 350 jobs that will be created throughout the construction period, hundreds of thousands of dollars will be infused into the area's hotels, restaurants and living facilities due to construction traveler spending alone."
The Grande Prairie Wind Project is Mortenson Construction's first wind project to be built in Nebraska and the company's third largest to date. Mortenson's largest wind farm ever built is the 501.4-MW Highland Wind project currently under construction in Iowa, owned by MidAmerican Energy, also a Berkshire Hathaway Energy subsidiary.
Once the project is completed in December of 2016 it will generate clean renewable energy for the equivalent of approximately 120,000 average Nebraska homes.
About Mortenson Construction
Founded in 1954, Mortenson Construction is a U.S.-based, family-owned construction company. Ranked as the 25th largest contractor in America according to Engineering News-Record, Mortenson provides a complete range of services including planning, program management, preconstruction, general contracting, construction management, design-build, and turn-key development.
Since entering the renewable energy market in 1995, Mortenson Construction has become the leading builder of wind power facilities in North America having constructed more than 135 wind power projects throughout North America. Mortenson's Energy Services group provides post construction repair and maintenance of wind energy facilities. In addition to wind power, Mortenson's Renewable Energy Groups also construct facilities that generate solar power and high voltage transmission and distribution.
Mortenson has operations in Minneapolis, Chicago, Denver, Milwaukee, Minneapolis, Phoenix, Seattle and Canada. For more information please visit http://www.mortenson.com/wind