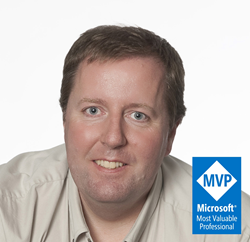 Here at 360 Visibility, we couldn't be prouder of Søren. Such recognition of both his investment in Microsoft technology and excellent community outreach is meaningful to a company such as ours. - 360 Visibility President Lynn Cooke
Toronto, ON (PRWEB) October 13, 2015
Microsoft is pleased to announce that Søren Skov Klemmensen, 360 Visibility's Senior Development Dynamics NAV Manager, has been awarded the 2015 Microsoft MVP Award. This award is given annually to exceptional technology community leaders who actively share their high-quality, real-world expertise with others. Søren, who also won the Microsoft MVP Award in 2014, is one of only two consecutive MVP Award recipients in Canada.
"MVPs are technology's best and brightest," Microsoft corporate vice-president Steven Guggenheimer enthused in a note about the announcement. "We are honoured to welcome Søren as one of them."
Fewer than 4,000 MVPs are named worldwide every year. Microsoft selects these experts from across more than 90 countries according to their passion for technology, willingness to assist others and commitment to community. Those in the exclusive receipt of an MVP recognition are in elite and select company.
Speaking about the MVP community, Microsoft's Corporate Vice-President of Developer Division Brian Harry, has said, "We could not be successful without such an incredibly valuable and engaged group of people working with us."
"Here at 360 Visibility, we couldn't be prouder of Søren. Such recognition of both his investment in Microsoft technology and excellent community outreach is meaningful to a company such as ours," 360 Visibility President Lynn Cooke, says. "Microsoft MVPs are integral to the 360 Visibility team. As a leading provider of Dynamics NAV solutions, our highly skilled team — including our MVP Søren — provides a distinct advantage for our valued clients."
Søren has spent his entire career working with Microsoft Dynamics NAV. He is a member of the Partner Ready Software think-tank, a preoccupation that sees him, along with four other MVPs, working to improve all aspects of Dynamics NAV development. He's also involved in Microsoft's Design Patterns Wiki Project on the Microsoft Dynamics NAV Community Site.
About 360 Visibility
360 Visibility is a business solutions company that's dedicated to enabling enterprise participants to make swift, well-informed, lucrative business decisions. The Toronto-based organization provides clients with enterprise software, access to cloud technology, and property management and IT infrastructure services aimed at facilitating a course of effective, profitable, pitfall-free corporate management. Its software repertoire features Microsoft Dynamics NAV, Dynamics GP, Dynamics CRM, Office 365 and Windows Azure. 360 Visibility has also developed proprietary property management software, 360 Property Manager, that's powered by Microsoft Dynamics NAV. 360 Visibility helps businesses see clearly and act faster.
360 Visibility currently holds a four-star rating at Microsoft Pinpoint. Click here for more information.
For corporate inquires, contact:
John Saund
360 Visibility
Phone: 905.907.3620
Fax: 905.907.3601
jsaund(at)360visibility(dot)com
http://www.360visibility.com