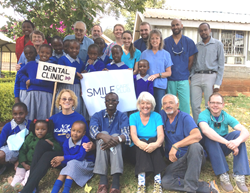 One aligner treatment for one dental visit. It's that simple.
Nashville, Tenn. (PRWEB) October 13, 2015
A child without a healthy mouth is much more likely to have an unhealthy life, and that's why SmileDirectClub, the leading remote invisible aligner system, has joined with Global Dental Relief (GDR) to help bring dental care to children who would otherwise go without it. For each aligner treatment plan purchased, SmileCareClub will donate one clinic visit to a child in Kenya.
"When SmileDirectClub first got off the ground, our goal was to make a beautiful smile affordable. Sponsoring Global Dental Relief is not only a natural extension of our brand, it's also a way we can empower our patients to make a difference," said Doug Hudson, CEO for SmileDirectClub. "One aligner treatment for one dental visit. It's that simple."
With a vision to transform lives and cultivate community through volunteerism, Global Dental Relief is a 501(c)3 organization that provides opportunities for diverse groups of volunteers to explore the world and bring free dental care and oral hygiene education to thousands of impoverished children each year. To date, the organization has worked with more than 1,500 volunteers to provide over $20 million in donated care to more than 100,000 children.
"Global Dental Relief's work wouldn't be possible without the help of both our volunteers and sponsors, which is why we're so excited to have SmileDirectClub come on board," said Kim Troggio, director for Global Dental Relief. "These donated funds will make a significant impact on the number of clinic visits we're able to provide to children through our work in Kenya."
To learn more, visit SmileDirectClub.com or GlobalDentalRelief.org.
About SmileDirectClub
Founded in 2013, SmileDirectClub is an invisible aligner system that allows patients to save 70 percent on the cost of treatment when compared to other aligner brands. The leader in teledentistry, SmileDirectClub removes the need for monthly office visits by working with an expansive network of state-licensed dental professionals who provide ongoing remote treatment through cloud-based technology. SmileDirectClub is a member of the American Academy of Cosmetic Dentistry.