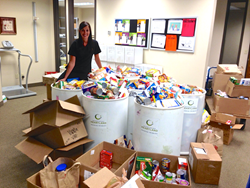 We are overwhelmed and grateful for generosity that our center employees and devoted clients showed in supporting this endeavor.
Denver, CO (PRWEB) October 13, 2015
In an effort to support the growing battle of hunger and malnutrition in our nation, SlimGenics Weight Loss Centers across Colorado, Minnesota and Ohio partnered with local food bank organizations to coordinate a summer food drive initiative to collect and redistribute food to families in the communities we serve.
According to a recent survey by Feeding America, one hundred percent of food banks responding reported increases in demand for emergency food assistance over the last year. Demand for emergency food assistance increased by 10% with nearly half of food banks and distribution agencies seeing a greater number of children in their food lines. The need to support Food Banks is clear with 72% of food banks not being able to adequately meet the needs of their communities without adjusting the amount of food distributed.
The results of the SlimGenics Food Drive were profound. Across 35 center locations, SlimGenics staff and clients were able to collect over 7,300 pounds of food to donate to Metro CareRing in Colorado, Second Harvest Heartland in Minnesota and the Greater Cleveland Food Bank in Ohio.
SlimGenics' annual food drive is one of the ways the company supports our local communities and those individuals and families who are struggling and in need. In 2014, SlimGenics Centers collected a total of 6,461 pounds of food across the three markets. With this year's 2015 initiative, the food donation drive was met with even greater enthusiasm and support by our staff and clients alike!
"We are overwhelmed and grateful for the generosity that our center employees and devoted clients showed in supporting this endeavor. When visiting a SlimGenics Weight Control Center, our clients are there to change their lives by learning about healthy nutrition and habits to help them achieve a healthy weight. Yet their altruism in also donating large quantities of food to help people in need in their own communities, demonstrates how committed they are to helping others change their lives as well. We are so grateful and proud of their support." – Unity Franko, President and COO of SlimGenics.
A founding principle of SlimGenics' mission is improving the health, well-being and quality of life for people through nutritional education and healthy eating habits. The organizations that we partnered with in this food drive closely align with our mission by educating people on proper nutrition and helping families in need receive healthy meals on a daily basis throughout their respective communities. The Greater Cleveland Food Bank in Ohio provided 39 million meals to Northeast Ohio in 2013 and offers ongoing nutritional education. Second Harvest Heartland, in Minnesota, works to not only provide nutritious meals for those in need, but also to provide sustainability through nutritional education and after-school programs. Our Colorado partner, Metro CareRing, works to end hunger in Denver by providing nutritious meals to families and individuals in need, and by offering self-sufficiency programs to help kids and adults learn healthy habits.
About SlimGenics LLC
Headquartered in Denver, CO, SlimGenics Group, LLC provides weight-reduction programs, designed to help improve the eating habits and lifestyles of people affected by weight issues. SlimGenics operates Centers in Colorado, Minnesota and Ohio and supports a national client base through online and corporate weight-loss programs. Since 2003, tens of thousands of clients have successfully lost weight with the SlimGenics program.