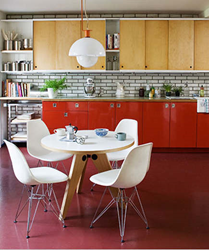 Showing customers that EZ Mod Furniture cares is what it is all about.
(PRWEB) October 10, 2015
The EZ Mod Deals of the Week for the dates of October 5th through October 11th are not only discounted, they are the typical in-demand items that customers constantly swarm the EZ Mod website for. This Week, the Phin chair, the W Chair and the Eiffel Side Chrome legged chairs are this week's picks. EZ Mod is also prepping for their Annual Columbus Day promotion, which is just around the corner.
EZ Mod launched three exciting Deals of the Week this past Monday, which includes the Phin Chair. The Phin Chair is a customer favorite because of the versatility, functionality and of course its unique shape. It is known for the elegant curves along either side of the arm rest and the smooth lines it presents. Not just the suave presentation, but the functional stacking technique that one rarely finds in a chair is very convenient. Phin chairs are also very easy to clean and wipe up. The amazing characteristics that the Phin Chair has is like no other.
Speaking of Chic, the EZ Mod "W" Chair is far from average. The W Chair is so flexible, it can be set anywhere from an elite cocktail party to a family room dining set. There are three different colors customers can choose from- the white coated finish, the black coated finish and natural. Whichever coat is chosen, all W Chairs are built with natural wood and guarantees durability. The comfortably curved backrest and strong, unfinished hemp seat will surely wow the crowd.
Always in demand, the Eiffel Side Chair with chrome legs is also part of the Deals of the Week. Included in pairs, the Eiffel chrome legged chair are both graceful and strong. Known for the "eiffel tower" style base, it is no wonder the Eiffel Side-Chrome legged chair is admired by all. The thick molding of the seat itself is resiliently strong and is made to last. It is made from heavy-duty materials, not to mention the high shine chrome legs which adds to its long-lasting name.
The staff at EZ Mod are pleased to announce their Columbus Day Promotion. "It is only one way that EZ Mod can thank the customers," explained Gloria, Customer Service Manager. "Showing customers that EZ Mod Furniture cares is what it is all about." From October 10th to October 13th, EZ Mod is offering customers $20 OFF their entire purchase with promo code COCT1315 at checkout. There is no minimum purchase for customers to enjoy this promotion.
Shop at EZ Mod and create a fresh new look with modern furniture design for a striking finish to any room. EZ Mod Furniture is an online modern furniture retailer located in Baldwin Park, California. For further assistance, please call Angelique Valdez, Sales & Marketing Associate at 866-630-6161 ext. 113 or email at sales(at)ezmodfurniture(dot)com.