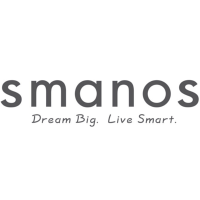 (PRWEB) October 09, 2015
Smanos was featured on NewsWatch as part of its monthly Tech Report, which features the latest and coolest technology products available to consumers. Scott Steinberg, a technology expert and special reporter for NewsWatch, conducted the review and shared with viewers how this security system is perfect for any home or dorm.
In this day and age it's more important than ever to keep homes and dorms safe and protected. That means having a proper security system. One system that stands out is the Smanos DIY Self Monitored W-0h-2-0h alarm system.
With its simple plug and play design it's as easy as plugging it in, downloading the FREE iOS or Android smartphone app and connecting it to WiFi. And when the W-0h-2-0h goes off, it's loud and intimidating. It's pretty much guaranteed to scare off any unwanted guests. Users of Smanos W020 will be sent push notifications as soon as it's triggered so they'll always know what's going on even when they're away. With the app you users change any settings, like the siren volume and time, exit and entry delays, and other security functions.
Smanos has another device in their security arsenal called the iP6 camera. It connects to WiFI networks as well, allowing users to see and hear everything's that going on in a home. It'll even allow two-way communication. Put the W020 and IP6 together and users will have a simple plug and play security solution for their house or dorm.
Smanos items can be purchased from http://www.Newegg.com, http://www.BestBuy.com or http://www.HomeDepot.com.
About NewsWatch
NewsWatch is a weekly 30-minute consumer oriented television show that airs on the Discovery Channel and ION Network. NewsWatch regularly features top technology products and services, mobile applications for iOS, Android, and Windows devices, unique and beautiful travel destinations around the world, health and medical tips, and entertainment interviews on the show. NewsWatch airs on the Discovery Channel at 7:00 – 7:30 AM ET/PT.
NewsWatch is located in the greater Washington, DC area and has been on air for over 25 years. For more information or to watch the most recent episode, visit http://newswatchtv.com/tech-report.html.