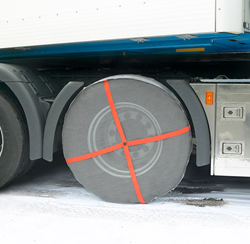 AutoSock Alternative Tracking Device
DENVER (PRWEB) October 08, 2015
AutoSock AS, the provider of an Alternative Traction Device (ATD) for passenger and commercial vehicles, today announced that its use has now been granted approval in British Columbia. The announcement follows an amendment to the British Columbia Motor Vehicle Act that changes the definition of "traction device" to include textile tire covers such as the AutoSock patented textile cover for commercial vehicles, including Class 3-8 medium- and heavy-duty trucks.
"We are pleased to see this amendment to the rules regarding traction devices in British Columbia," said Bernt J. Rosli, CEO of AutoSock Operations AS. "Now, any truck or passenger vehicle can be fitted with AutoSock when traction devices are required by the province. For U.S. and Canadian motor carriers that travel in British Columbia, this change in the Act means AutoSock can be used as a legal and cost effective traction device."
AutoSock is currently the only company providing a wide range of textile traction devices for trucks and is the only named approved product in Washington and Colorado. The ATD can also be used in states that have no specific device exclusions when chain requirements are in effect.
"This is fantastic news for our U.S. customers that travel into Canada," said Chuck McGee, president of McGee Company, the U.S. distributor for AutoSock. "The popularity of textile traction devices is rapidly increasing so it's nice to see the regulations keeping up with the trend."
The AutoSock patented textile cover uses high-performance fibers and a specially designed surface pattern to maximize friction on snow and ice covered roads by making the total contact area exposed to dry friction as large as possible. The ATD can be installed in less than five minutes per wheel, minimizing a driver's exposure to weather and traffic, and at less than 5 lbs per pair provides a weight savings compared to a 50-lb set of traditional chains.
AutoSock is easy to store inside a cab or tool compartment, and unlike tire chains, will not damage a vehicle's fenders and exposed brake lines while in use.
The ATD is fully compatible with ABS and traction control systems, and does not damage road surfaces, unlike metal chains, because its material is softer than concrete and asphalt.
Detailed information about AutoSock for fleets and consumers is available at http://www.autosock.us, including links to each North American jurisdiction's traction device regulations such as usage restrictions based on weather conditions. The site can also be accessed on mobile devices, allowing drivers to obtain installation and other information on the road.
About AutoSock AS
AutoSock AS is a Norwegian research-based company founded in 1998. In 2001 AutoSock was approved by TÜV, which is regarded as a world-leading test and certification association, and is now approved globally in various jurisdictions and by several truck and car manufacturers. Through 2012, over two million pairs of AutoSock were in use worldwide. For more information, visit http://www.autosock.us.
Media Contact:
Susan Fall
LaunchIt Public Relations
858-490-1050
susan(at)launchitpr(dot)com
http://www.LaunchItPR.com