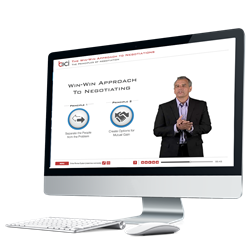 "We ensured that this training not only worked within the larger ecosystem of our customers' organizations, but within the everyday lives of their people..." Jim Cossetta
Houston, TX (PRWEB) October 09, 2015
Baker Communications, Inc. (BCI), a CCI Global Holdings company, has introduced a new cloud-based e-Learning platform to deliver their multi-award-winning training on any device at any time, starting with their Win-Win Negotiations course. This launch is part of Baker Communications' digital transformation designed to provide customers more options, increase learning retention, and deliver real behavioral change that impacts both individuals and entire companies.
BCI developed this new e-Learning platform in partnership with 4What Interactive, another member of the CCI Global Holdings family. 4What has been a creative force in the digital learning industry for over 20 years; their distinct, humanized take on cloud-based learning was the perfect fit for BCI's training programs, because both companies are focused on creating new, personalized learning paths at the individual and organization-wide level.
Working together, BCI and 4What have produced a complete, well-rounded learning experience that customers are finding to be fun, engaging from start to finish, and full of exceptional training content that is truly helping them enhance their negotiation skills.
CEO of Baker Communications, Walter Rogers, says of the new offering: "This is not like traditional e-Learning. We heard our customers say loud and clear that they are tired of stale, boring and dated e-Learning experiences - they want a high-quality, professionally produced, immersive learning experience to improve engagement and retention. Our new suite of digital learning offerings, blended with our virtual and in-person learning solutions, provides greater options and results for all our customers. Partnering with our sister company 4What enables us to provide unique learning experiences that truly change behaviors and ignite growth for individuals and companies worldwide."
Jim Cossetta, CEO of 4What Interactive, adds: "Both 4What and BCI believe in providing learning when and where people need it, so they can instantly apply what they learn. By making digital learning modules compatible with any device or existing learning platform, we ensured that this training not only worked within the larger ecosystem of our customers' organizations, but within the everyday lives of their people - whether they're sitting at a desk, running to meet clients, or located halfway around the world."
Taking a different approach to standard corporate e-Learning, BCI's offerings are part of a blended learning approach, along with classroom training, gamification, virtual training and coaching, and ongoing reinforcement tips. To meet a range of customer needs and budgets, BCI offers this blended training solution in three packages. (See the packages and start a free trial.)
Customers are already seeing the following benefits:

Cost savings: By providing learning online, companies reduce travel expenses for both their people and on-site trainers. Furthermore, the Win-Win Negotiations training program has proven to reduce discounting up to 10% (results from SAP), which further reduces losses and grows top-line revenue.
Individual and cultural behavior change: By reinforcing learning through ongoing access and multiple "touches," a learning strategy proven to boost retention, participants adopt behaviors that make them more successful and become a pervasive force within their work environment.
Alignment: Providing the same learning and expectations to teams around the globe means that every employee has the same goals in mind and every customer has a consistent experience.
Following the successful launch of the Win-Win Negotiations e-Learning course, Baker Communications will shift its focus to the award-winning sales leadership book, Pathways to Growth, written in partnership with Tony Robbins, in addition to Customer Outcome Selling and Exceptional Presentations courses.
About Baker Communications & 4What Interactive
Baker Communications and 4What Interactive are part of the CCI Global Holdings Company. This family of companies has united leaders in various areas in the learning industry around the goal of delivering global training solutions that combine proven behavior-change techniques with innovative technology.
Within CCI Global Holdings, Baker Communications provides the solid, time-tested experience of over 35 year as a global training leader focused on maximizing professional skills in seven core areas: Sales, Presentations, Negotiations, Management, Customer Service, Business Essentials, and CRM. And 4What Interactive brings their innovative, humanized approach to online training, marketing and communication solutions that has been transforming the learning world for over 20 years.
Learn more and sign up for a free trial of the new e-Learning system.