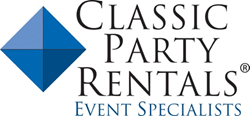 (PRWEB) October 09, 2015
This weekend the heart of our Nation's Capital, Pennsylvania Avenue, will be transformed in just hours from the boulevard in front of the United States Capitol into an expansive foodie destination by the country's leading event rentals and services provider, Capital Party Rentals, A Classic Party Rentals Company. As the exclusive rental provider for Taste of DC, a multi-day culinary event, the Capital Party Rentals team will convert a four block radius overnight to prepare the area for thousands of people to enjoy the region's best food, drink and entertainment.
"This will be the fourth year that we have been tasked exclusively with this unbelievable conversion in one of the most highly trafficked areas of Washington D.C.," says Doug Rook, General Manager of Capital Party Rentals. "What should take days, our incredible team completes in hours. We never shy away from challenging situations at Classic. Our vast resources and experienced team embraces them like no other company could."
"We love working with the Capital Party Rentals team as their approach to challenges is to simply tackle them and get the job done even better than we could expect in such a short time window," adds Steuart Martens, CEO of Taste of DC. "Their unmatched capabilities have made them our go-to rental provider. We can always rely on them to not only meet, but exceed our expectations every time."
A combination of more than 100 traditional frame tents and classic looking High Peak tents will line Pennsylvania Avenue this weekend for the Mid-Atlantic's largest culinary festival. To get the scene ready Capital Party Rentals will set over 1,000 chairs, 200 tables and extensive kitchen equipment. The Capital Party Rentals team will begin setting up at 8 o'clock on Friday, October 9 and be completed by 6 o'clock the following morning, finishing in less than half the time typically required.
About Classic Party Rentals
As the nation's leading event rentals and services provider with over 25 locations, Classic Party Rentals is the backbone for more than 150,000 events and celebrations per year. Their network of over 2,000 award winning event professionals is renowned for providing exceptional client services with a fresh and innovative approach to handling the most important events in the country. Boasting over 9 million choices from an unparalleled range of inventory that includes exclusive furniture, china, specialty linens, lighting, heating, flooring, tenting and more, Classic Party Rentals creates events that define the most remarkable moments in time. For more information, go to http://www.ClassicPartyRentals.com or follow us on Facebook, Twitter or Instagram.