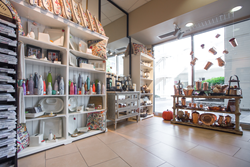 Luxury Gifts for Every Occasion.
Oak Brook, Illinois (PRWEB) October 10, 2015
Tabula Tua, one of Chicago's leading tabletop & luxury gift boutiques, is excited to announce the opening of their 2nd location in the prestigious Oak Brook Shopping Center. A longtime favorite of Chicago tastemakers and brides in search of a vibrant twist on tabletop entertaining, Tabula Tua offers the most beautiful dinnerware and gift items from around the globe and has been a staple of Chicago's Lincoln Park neighborhood for over 20 years.
Tabula Tua's new Oak Brook Shopping Center location opened Saturday, October 3rd and showcases a carefully-procured selection of unique gifts, tableware, and home décor. With sought-after lines such as Astier de Villatte from Paris and Match Pewter from Italy, many of Tabula Tua's beautiful wares are exclusively available through their two Chicagoland boutiques.
About Tabula Tua: Launched in 2000, TabulaTua.com was the first online store to offer high-end, hand-crafted and unique tableware and gifts and caters to both local & out-of-state clientele. Offering a boutique-shopping experience paired with personalized one-on-one attention, Tabula Tua also offers a bridal registry available both online & in our stores.
In January of 2014, the Tabula Tua name, on-line site, and Lincoln Park store location was purchased by the Linly Designs Company. Linly Designs is an industry leader in Interior Design and high-end home furnishings with an impressive history of growth and expansion. Established in 2002, Linly Designs offers elite interior design services in the Chicagoland area and now has four successful locations where clients can browse and shop for home décor and accents that are not available elsewhere.